Presidential 'seal' of approval: Clinton campaigns with official POTUS seal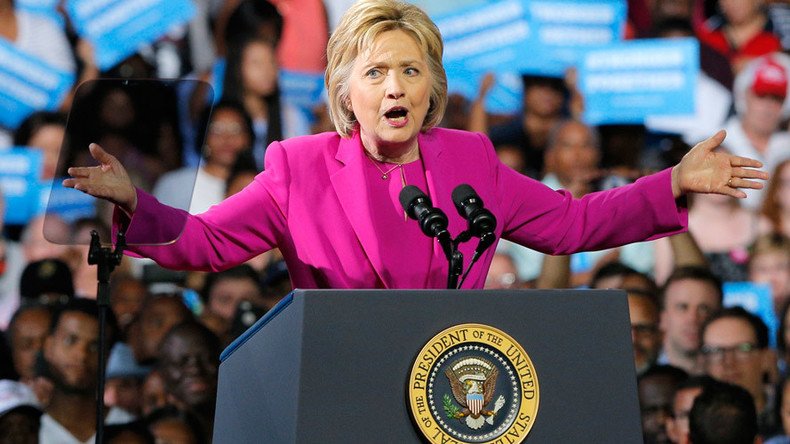 The internet has erupted after President Obama provided Hillary Clinton with more than just a warm-up speech at a campaign stop in Charlotte, North Carolina. She was welcomed to use the Seal of the President of the United States, which many found objectionable.
Clinton also was treated to a ride on Air Force One on Tuesday, as she and President Barack Obama made their way to their first 2016 campaign appearance together.
Mere hours earlier, FBI Director James Comey announced that no recommendation for an indictment would be made against the former Secretary of State, following an investigation into her use of private email servers during her tenure at the State Department.
READ MORE: WikiLeaks rolls out archive of over 1,200 'Clinton Iraq War' emails

On a day of such political contrast, with Comey saying Clinton acted in an "extremely careless" manner, while the sitting president saw his party's nominee speak in front of his seal-emblazoned lectern, the reactions on Twitter were mixed.
So many chills seeing her behind the Presidential seal. Wow.

— Dylan Hewitt (@hewittdylan) July 5, 2016
Why is Obama allowing a campaign event be held behind the presidential seal?
Asking for America.

— SalenaZito (@SalenaZitoTrib) July 5, 2016
Isn't it against the law/rules to use government property for campaign purposes? Wouldn't that go for the Presidential Seal as well?

— littlepol (@littlepol) July 5, 2016
On the day that Hillary is officially certified as careless and negligent, she gets to share the Presidential Seal with Obama. Shameless.

— Robert Meyer (@rmeyer123) July 5, 2016
You can share this story on social media: