Oops: PBS gets around rainy Fourth with fake fireworks footage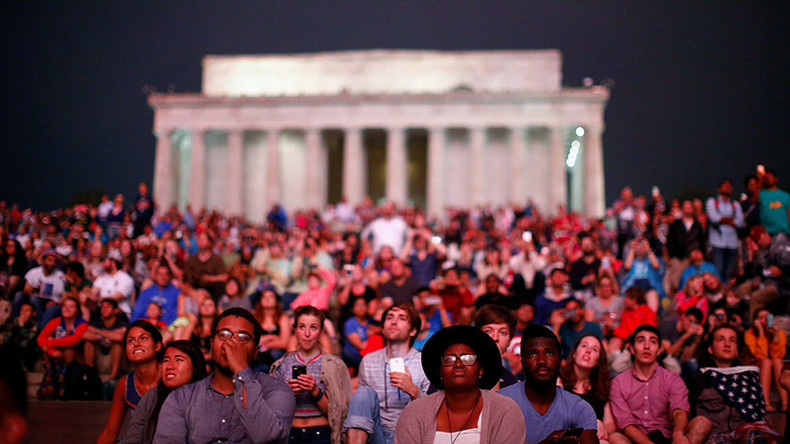 Wet and foggy weather dampened America's traditional Independence Day fireworks in Washington, DC, on Monday, but millions watching the public television broadcast might have thought everything was fine after old footage was shown instead.
'A Capitol Fourth' is a DC tradition going back 36 years. Every Fourth of July, the Public Broadcasting System shows the fireworks display in the nation's capital from the West Lawn of the US Capitol building. This year, PBS producers apparently decided the mercurial Washington weather wouldn't be allowed to rain on their parade. After all, who would know?
Not cool @pbs.... Fake footage of fireworks on the Fourth???? It's cloudy and rainy in DC. Those shots are clearly not from tonight.

— Chris Wallgren (@seawall77) July 5, 2016
As PBS tweeted about how amazing the show was, the real fireworks lit up social media, with outraged viewers protesting the misleading broadcast.
The backlash eventually drew an apology from the public broadcaster, which claimed that the show was a composite of this year's show with previous years.
"It was the patriotic thing to do," PBS said.
Many were still not amused, slamming the station for attempting to pass stock footage as the real thing. In the words of one columnist, it was "such a DC thing to do."
It's just a shame you didn't tell us up front you were going to pull this switch. Not very professional. #pbs#July4thPBS

— Joe Cap (@JoeCap393) July 5, 2016
More than four hours after the show, at almost 2am local time on Tuesday, PBS finally tweeted an apology… of sorts. While apologizing for "any confusion" caused by the switch, the station defended its decision to intercut footage from previous concerts "for the best possible television viewing experience."
I knew public broadcasting was powerful. Until tonight l I didn't know it could clear cloudy skies & scaffolding. #capitolfourth

— Jennifer A. Dlouhy (@jendlouhyhc) July 5, 2016