Baltimore PD introduces new 'use of force' policy [VIDEO]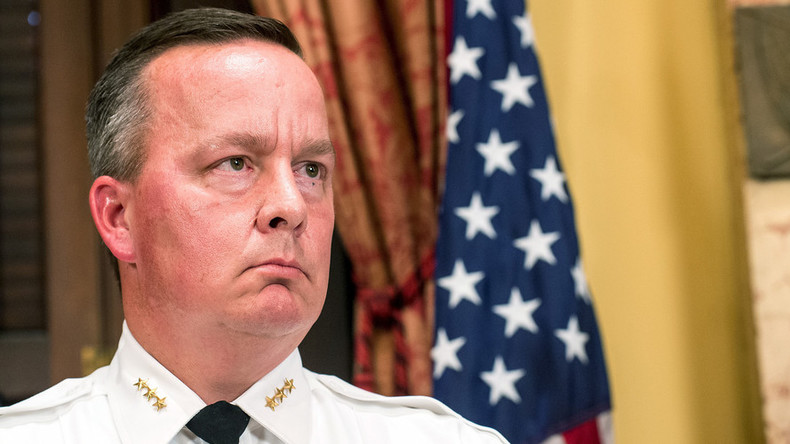 As Maryland courts have failed to convict any police officer involved in the death of Freddie Gray so far, the Baltimore Police Department has announced a new "use of force" policy, which emphasizes the "sanctity of life."
"Some of the key points in this 'use of force' policy include the emphasis on the sanctity of life, that's actually in the policy now, and the need to de-escalate when possible," said Baltimore Police Commissioner Kevin Davis at a joint press conference with Mayor Stephanie Rawlings-Blake at police headquarters on Wednesday, according to the Baltimore Sun.
Davis added that the "use of force" policy had not been updated since 2003 and that the department had learned much about best practices during that time.
The policy changes come as the courts have failed to convict a single officer for the death of Freddie Gray. Gray died from injuries sustained in police custody at the age of 25 when he was improperly secured in the back of a police van. The incident sparked widespread protests against police brutality and prompted the Justice Department to launch an investigation. Six officers were charged, all of whom pleaded not guilty.
So far, two officers have been acquitted and one will be retried, as his initial trial ended in a hung jury. The trials of the others have not yet begun.
Davis asserted that officer safety was at the top of the discussion of each and every policy change they made.
"Our policy establishes a 'use of force' model to assist officers when making force decisions, it requires officers to provide aid, including EMS, immediate hospital transport for injured persons, and those claiming to be injured," he said.
"It restricts situations in which police officers are authorized to discharge a firearm at or from a moving vehicle, and it requires officers to intercede and notify the supervisor if they see a fellow officer using excessive force," Davis continued.
The department revised its policy in consultation with outside groups and institutions, including the American Civil Liberties Union of Maryland, the Baltimore chapter of the NAACP, and local prosecutors and public defenders, officials said.
A former police officer with the Metropolitan Police Department in Washington, DC believes making police officers accountable for other cops' criminal behavior is a worthwhile idea, but is easier said than done.
"It is a good policy. I believe it should be in place. It would be on paper, but whether or not police officers will do it will be another thing, because of the culture of policing in our society," Ronald Hampton of the National Police Accountability Project told RT America. "It is not about, if you see a police officer doing something wrong, another police officer more than likely would not do anything and [would] come to his or her behalf, rather than report them for doing something improper, or even intervene."
Hampton said the Washington, DC code says that a police officer has a duty to respond or intervene if anyone is committing a crime. It does not exempt police officers.
What is missing, however, are protections for officers who choose to blow the whistle on their colleagues, and measures the department should take to prevent officer-on-officer harassment, he added. Hampton thinks it would be more fruitful to codify those measures in the Maryland criminal code.
Rawlings-Blake told reporters that city residents never tell her that they want "an aggressive police department; they say they want an effective police department."
The announcement of the new policy comes just as the US Justice Department is about to release the results of a sweeping investigation into the Baltimore Police Department's patterns and practices.