Drug bust nets big bucks for Miami-Dade police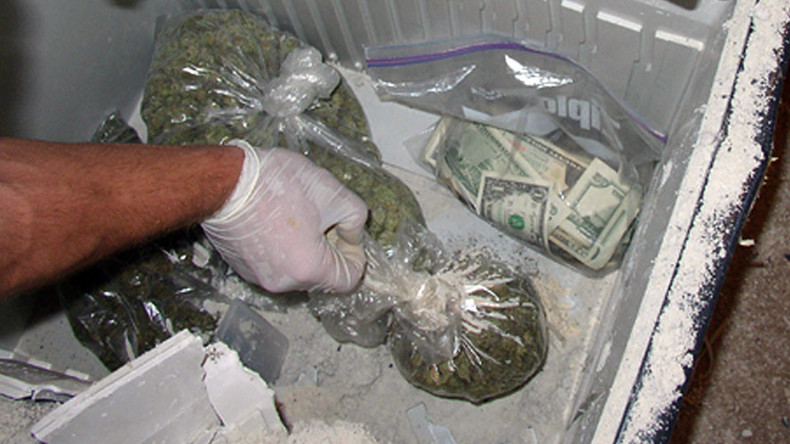 When Miami-Dade police raided the house of Luis Hernandez-Gonzalez, even the most veteran agents among them were not prepared for what he had stashed in his house: $24 million in cash.
The $24 million was wrapped mostly in bundles of $100 bills and was stuffed into 24 different orange five-gallon buckets. The discovery was made after a statue of St. Lazarus, a popular figure for Cuban Catholics and followers of Santeria, was removed from a wall alcove and detectives punched a hole in the wall, the Miami Herald reported.
Hernandez-Gonzalez, 44, owns and operates the Blossom Experience, a hydroponic supply store for indoor gardening. While there is nothing illegal about selling lights, fans or other equipment for an indoor greenhouse, police had reason to believe that the Blossom Experience catered more to criminals than gardeners.
Hernandez-Gonzalez was named by various informants for the Drug Enforcement Agency (DEA), who accused him of undercutting the competition by selling the growing equipment cheaply, and then buying top shelf weed from his clients before reselling at a higher price.
One informant was able to sell 101lbs of marijuana to Hernandez-Gonzalez inside of Blossom Experience, but the DEA was not able to build a case. However, a bust in Nashville, Tennessee, led to the arrests of 11 people. The ringleaders of the Tennessee operation had ties to Miami and had received advice from Hernandez-Gonzalez on nursing sick plants back to recovery. These conversations were recorded by federal wiretaps, which led to a search warrant for Blossom Experience.
The search of the Blossom Experience turned up marijuana seeds, marijuana and $180,000 in cash in a safe.
The next investigation led to the raid of his home in Miami Lakes, an affluent neighborhood in Miami, where the money room was discovered. A 6-feet-by-7-feet room only accessible from the attic was where investigators found the cash, stunning even the veteran narcotics detectives.
Hernandez-Gonzalez is likely in shock for a different reason. Not only did he lose $24 million in a gamble with the law, he is also facing a number of charges such as money laundering, marijuana trafficking and possession of a firearm while committing a felony.
Salma Hernandez, his sister, was arrested and charged as well. Her role in the scheme is unclear. However, it is known that she worked at the Blossom Experience.
At least 80 percent of the money can be seized by the Miami-Dade police through civil forfeiture laws, while the feds will be able to take the house in Miami Lakes.