Trump talk dominates North American Leaders' Summit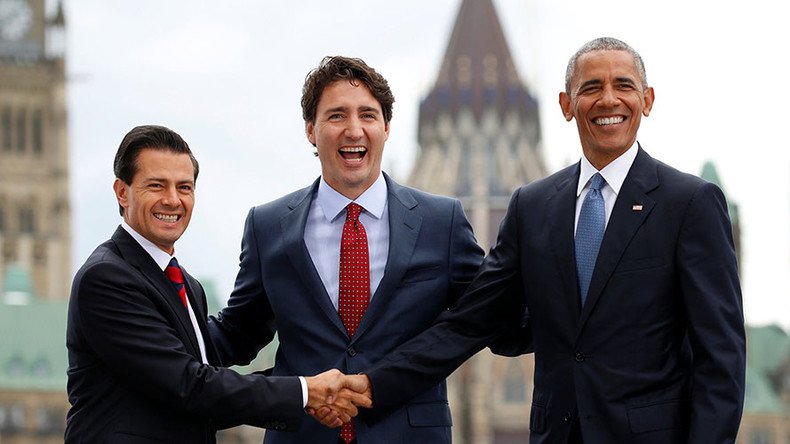 The leaders of the US, Mexico and Canada gathered in Ottawa to discuss cooperation between the countries, but the topic of conversation that seemed to dominate was the controversial Republican presidential presumptive nominee, Donald Trump.
At the Wednesday afternoon North American Leaders' Summit, US President Barack Obama, Mexican President Enrique Pena Nieto and Canadian Prime Minister Justin Trudeau touched on issues of trade, climate change and shared values between the three neighboring nations.
The reporters seemed to have another issue on their mind: Donald Trump and his rhetoric on immigration and The North American Free Trade Agreement, or NAFTA, that he has threatened to renegotiate.
In response to a question about anti-immigration rhetoric, President Obama reminded the audience that whoever is the president of the US will have a vested interest in a strong relationship with Mexico, and the fact that the United States has always been a nation of immigrants will not change with a single election.
"Go back to the 1800s. The [anti-immigration] language is identical," Obama said. "But they kept coming because America offered possibility for their children and grandchildren, even if they were discriminated against."
Obama also mentioned that criticizing foreign candidates during election season is not a good strategy for the world, and that he though he often has preferences, he rarely chooses to express them.
Prime Minister Trudeau echoed Obama's sentiments, saying that being forcefully against a foreign candidate doesn't help international cooperation.
"It's easy to forget amid inflated rhetoric of election campaign that relationships go far deeper than any individuals," Trudeau said. "It's because we serve citizens because they themselves are tremendously aligned, because of desire for success. So when you look at the level of integration at our supply chains and our markets."
Another reporter asked President Pena Nieto if he stood by his earlier comments where he compared Donald Trump to Adolf Hitler and Benito Mussolini.
Pena Nieto said that his comparison was simply a call to bear in mind the past consequences of those leaders having powers.
"I'll go straight to the point: My government will respect the domestic electoral process in the US," Pena Nieto said. "I don't think I've said anything different than what I've said here. I did not make reference to a specific place."
In a final response to the question, Obama said that he took issue with the word "populism" being used to describe Donald Trump and other leaders around the world with similar stances on issues.
"They don't suddenly become a populist because they say something controversial to win votes," Obama said. "That's not populism; that's nativism, that's xenophobia. Or worse: that's cynicism."
You can share this story on social media: