California to vote on legalization of recreational marijuana after 600k signatures gathered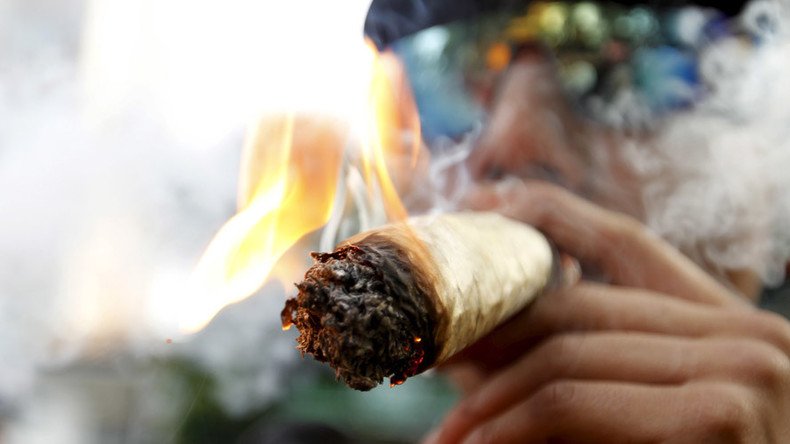 California residents will get to vote on the legalization of recreational cannabis this November after campaigners gathered more than 600,000 signatures to put it on the ballot.
Secretary of State Alex Padilla announced on Tuesday that the initiative, which required just over 402,000 signatures, had passed.
If the initiative passes, one in six Americans will live in states where cannabis is legal, including all four states along the Pacific coast, ABC reports.
The new law would allow anyone over the age of 21 to buy up to an ounce of marijuana or edibles at licensed premises – and be entitled to grow up to six plants for personal use.
Maine and Nevada will also vote on legalization in November.
Colorado voters legalized the substance in 2012.
Marijuana sales would be subject to a 15 percent sales tax and counties could impose their own fees on top of that. Cultivation taxes will also apply, at $9.25 per ounce of flowers and $2.75 per ounce of leaves.
Taxes collected from marijuana sales in other states have surpassed those collected from alcohol taxes.
In Colorado, the industry is worth $1 billion and the state collected more than $135 million in taxes and licensing fees last year, with more than $35 million of that being channeled into the state's school system, Forbes reports.
California, the most populous state in the US and the world's sixth largest economy, is estimated to raise up to $1 billion per year.
Costs related to processing and imprisoning people marijuana-related offenses would also be greatly reduced.
The initiative states that marketing standards and restrictions will be applied and advertising to minors would be prohibited.
"Today marks a fresh start for California, as we prepare to replace the costly, harmful and ineffective system of prohibition with a safe, legal and responsible adult-use marijuana system that gets it right and completely pays for itself," Jason Kinney, California's Adult Use of Marijuana Act spokesman said.
Californians to Control, Regulate and Tax Adult Use of Marijuana While Protecting Children has raised $3.7 million for the initiative.
Lieutenant Governor Gavin Newsom and Napster's Sean Parker, who was also president of Facebook, lead the coalition.
Those in favor of legalization argue it will make it more difficult for those under the age of 21 to get marijuana and that it will take money from illegal drug dealers.
The push for legalization is also framed as a civil rights argument, highlighting the disproportionate number of minorities that are arrested on marijuana charges, despite there being no difference in levels of marijuana consumption between races.
Legalization is supported by the California Medical Association, California Democratic Party, and California NAACP.
Those who oppose legalization argue that it will lead to danger on the roads and allow hard drug dealers to get involved in the legalized industry, LA Times reports.
California Republican Party, the Teamsters Union, and Responsible Drug Policies, a police and hospital group, are among those opposing the legalization. They have raised $125,000 for the cause.
California was the first US state to legalize medical marijuana in 1996, but it currently requires patients to suffer from a long list of illnesses and get an annual "prescription" from a doctor.
A similar recreational use referendum, Proposition 19, was defeated in 2010, before any of the other states passed their legalization laws.
READ MORE: Marijuana-related deaths, suspensions & problems spike in Colorado – report
While alcohol and tobacco remain deadly and costly forms of recreation, there have been a few cases of non-fatal edible cannabis overdoses reported in Colorado.
However, as the Huffington Post reported at the end of last year, the rate of cannabis overdose deaths is holding steady at zero.
You can share this story on social media: