1 killed & 9 injured in massive home explosion in Toronto suburb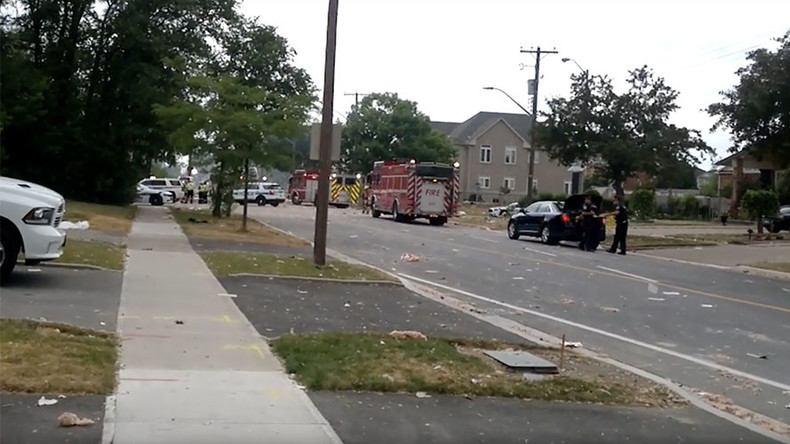 A massive explosion killed one person and injured nine others in the Canadian town of Mississauga, southwest of Toronto. At least one house was completely wiped out, while over a dozen of adjacent homes were damaged.
The footage from the site shows massive debris piled up. Locals have posted devastating photos and videos from the scene, with heavy gray smoke seen rising above from where the house used to stand.
Dozens of police, fire and ambulance vehicles are in the area. Police are going door-to-door to investigate what happened. At this point it is unknown what caused the blast.
Emergency crews found one victim with no vital signs. So far nine people got help from paramedics, but none were sent to the hospital for treatment.
Mississauga Mayor Bonnie Crombie confirmed that one home was completely obliterated, six others were damaged and 18 others were somehow affected by the blast.
Local authorities were called at 4:22 p.m. local time to Hickory Drive near Dixie Road.
Mississauga Fire Chief Tim Beckett said it may be "a while" before residents can come back to their homes.
Police are asking people to avoid the residential area near Rathburn Road East and Dixie Road for safety reasons.
Neighbor Belma Colakovic said she was nearby when the blast happened.
"All of a sudden, we felt the ground shake and the windows move and the doors open and close. At first we thought it was a really bad earthquake, and then we looked up outside, and we saw that there was a huge cloud of smoke everywhere," Colakovic told CBC News. "There was just wood on the street... scattered all over the place."
Mississauga is Canada's sixth-largest city, located in southern Ontario. It is part of the Greater Toronto Area, with many residents commuting to Toronto from the city.
You can share this story on social media: