11.4 million Americans spend half their income on rent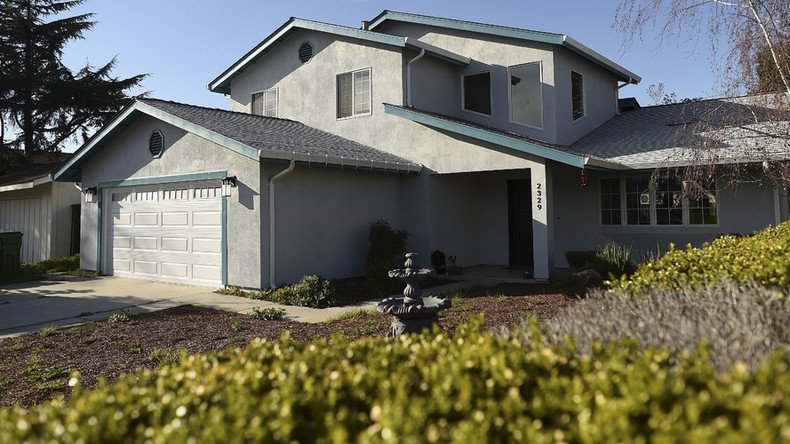 The cost-burden for renters is at a historic high, a Harvard University housing report found. Over six years, the number of Americans paying half their salary on rent has grown from 2.1 million to 11.4 million. Median rent is now $1,381 per month.
The report provides a current assessment of the state of housing markets for rental and homeownership, the economic trends driving demand and the financial health of American households.
Among its findings were that, as the housing crash fades, the national housing market could be an engine of growth again for the US economy ‒ except it is being hampered by the increase in income inequality.
"[Income] inequality increased over the past decade, with households earning under $25,000 accounting for nearly 45 percent of the net growth in US households in 2005-2015," stated the report The State of the Nation's Housing 2016 released on Wednesday.
The report found that "the national homeownership rate has been on an unprecedented 10-year downtrend, sliding to just 63.7 percent in 2015."
While homeownership has been sliding, last year saw the biggest surge in new renters in the US, bringing the number of people living in rental units to around 110 million people, or about 36 percent of households.
An annual report from Harvard University's Joint Center for Housing Studies, the State of the Nation's Housing,... https://t.co/sY9IPMgGXK

— SecurityTradeIdeas (@sectradeideas) June 22, 2016
Half of the renters in 2015 earned less than $25,000, and even top income households were becoming new renters over the past three years. The report also found that middle-aged renters made up a lot of the new demand, with 40 percent of renters aged 30-49.
"Tight mortgage credit, the decade-long falloff in incomes that is only now ending, and limited supply of homes for sale are all keeping households – especially first-time buyers – on the sidelines," said Chris Herbert, managing director of Harvard's Joint Center for Housing Studies, which published the report, in a statement.
"And even though a rebound in home prices has helped to reduce the number of underwater owners, the large backlog of foreclosures is still a serious drag on homeownership," he added.
Personal finance experts suggest budgeting around 30 percent of monthly income to cover housing costs.
The median rent on a new apartment was $1,381 in 2015, meaning a renter would have to make at least $50,000 a year to be able to afford the rent, according to the report. In fact, the typical renter makes about $34,000 a year, which makes the ideal rent about $850.
Prices that low are at odds with what is happening in the housing market: Developers are building luxury apartments because they tend to provide a higher return on investment. A consequence of that focus is that it leads to an increase in all rents and creates a dearth of affordable rentals.
While 11.4 million Americans are spending 50 percent of their income on rent, the report also found a total of 21.3 million were spending 30 percent or more of their paycheck to cover the rent. That represented another record high, growing 16.9 percent between the years 2008 and 2014.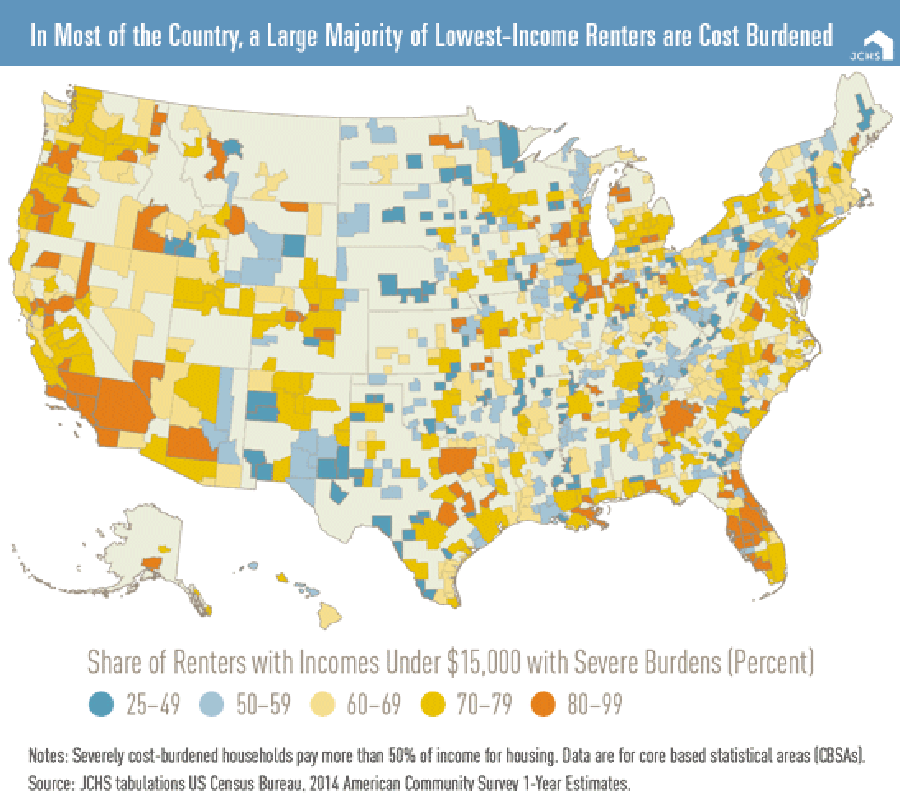 In the 10 cities with the highest housing costs, renters with middle-class incomes were having a particularly hard time making ends meet. Nearly 75 percent of renters earning $30,000-$44,999 and 50 percent of those making $45,0000-$75,000 living in these hot markets are considered "cost burdened" meaning they spend at least 30 percent of their income on rent.
What that means for American families is they are spending less on essentials like food, clothing and healthcare, and making it tougher for them to achieve long-term financial security by saving for an emergency fund, a down payment or retirement.
These conditions have serious long-term consequences, particularly for children's future achievement, the report noted.
"And compounding these challenges," said Daniel McCue, a senior research associate at the Joint Center, "residential segregation by income has increased. Between 2000 and 2014, the number of people living in neighborhoods of concentrated poverty more than doubled to 13.7 million."
Missing is the lack of federal response to the crisis leaving many states and local government to expand rental assistance and promote construction of affordable housing.
"These efforts are falling far short of need. Policymakers at all levels of government need to take stock of what can and should be done to expand access to good-quality, affordable housing that is so central to the current well-being and potential contribution of each and every individual," said Herbert.
You can share this story on social media: