FBI, Cleveland police 'door knock' activists expected to protest RNC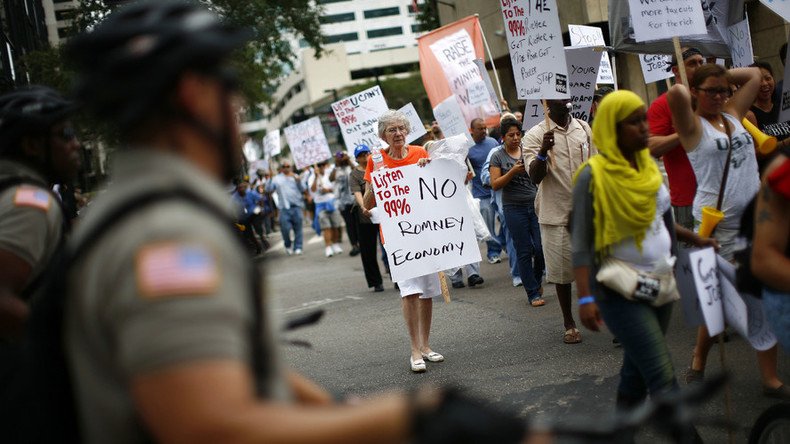 With less than a month to go before the Republican National Convention, Cleveland police are teaming up with FBI agents to conduct so-called "community outreach." The activists they're visiting, however, call it "intimidation."
To ensure a "safe and secure" Republican National Convention, scheduled for July 18 to 21 at the Quicken Loans Arena in Cleveland, Ohio, the Federal Bureau of Investigation is collecting intelligence on and from potential activists, the FBI's Cleveland division spokeswoman, Donna Sullivan, told the Cleveland Plain Dealer.
The "door-knock" visits are a form of intimidation to Jocelyn Rosnick, a representative of the Ohio chapter of the National Lawyers Guild, she told the Plain Dealer. Rosnick's group is providing legal aid to many RNC protesters, but she clarified that not all of the activists visited were planning to attend RNC protests.
Teams of federal and local law enforcement officers started the reconnaissance this week, inquiring into activists' previous addresses, affiliations and future plans for the RNC. In response, a "Know Your Rights" workshop is planned for Friday, activists told the Plain Dealer.
"There's an implication of force behind [the visits]," Maggie Rice, an organizer with Food Not Bombs Lake County said. "They say that they're friendly and just talking, but it still implies that there could be consequences there."
Earlier this month, at a city council public safety committee meeting, Cleveland police made it known they would include undercover work in their operations related to the RNC protests. Activists are anticipating that and more.
"None of us plan to answer our doors when the FBI comes knocking, and none of us plan to cooperate in any way," Rice told the Plain Dealer.
Local restrictions "insufficient opportunity for First Amendment purposes"
US District Judge James Gwin ruled Thursday that the "event zone" created by local officials posed unreasonable burdens on those wishing to exercise their First Amendment right to free expression during the GOP convention.
The zone's 3.5 square miles surrounding the Quicken Loans Arena was "unduly large," the judge found, as it included nearby city parks as well.
The American Civil Liberties Union of Ohio, which brought the case against the city of Cleveland last week, has entered into negotiations with local officials, per Gwin's request. The ruling came just 25 days before the convention, making further litigation unlikely to resolve their differences. US District Judge Dan Polster will be the intermediary in the talks.
The ACLU represented Citizens for Trump, the Northeast Ohio Coalition for the Homeless and Organize Ohio.
Also on Thursday, the ACLU sued the city of Philadelphia over its refusal to grant a permit for a march during the opening day of the Democratic National Convention, scheduled for July 25 to 28 at Philadelphia's Wells Fargo Center.
Democracy Spring, an alliance of activist groups favorable to Democratic presidential candidate Bernie Sanders, plans to "crash the party" in Pennsylvania.
"If the Democratic Party wants to put on a $50 million infomercial saying, 'Hey vote for us,' without committing to make this the last corrupt, billionaire-nominated voter suppression-marred election, then we're going to crash the party," Kai Newkirk, director of the group, told CNN on Wednesday.
You can share this story on social media: