29,400 gallons of oil spill near ocean in Southern California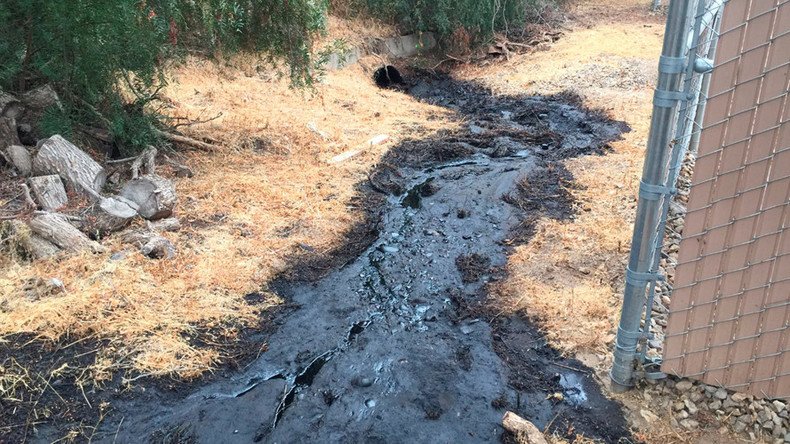 Authorities raced to prevent some 700 barrels of crude oil spilled in Ventura, California, from reaching the ocean, early Thursday morning. Environmental groups praised the responders, but cautioned that "there is no way to clean up all the destruction."
The leak from a pipeline in Hall Canyon in Prince Barranca valley was first identified around 5:30am. Initial reports relayed inflated estimates of 210,000 gallons spilling from 5,000 barrels, but the Ventura County Fire Department confirmed the spill was smaller.
UPDATE: The oil flowed into a gorge called Prince Barranca, according to the Ventura County Fire Department. The Barranca has a debris catch basin that allowed the crude oil to pool into it instead of flowing to the ocean. While the leak is not considered an environmental threat, department spokesman Mike Lindbery said that air quality is being monitored.
The damage wrought, however, is serious enough that hazardous material teams will be on scene. Investigators are also on the way, Office of Spill Prevention and Response spokeswoman Amy Norris told the Los Angeles Times.
"Sierra Club praises the immediate action by Ventura's first responders, but as we all know too well, there is no way to clean up all the destruction caused by crude oil spills," the environmental advocacy group said in a statement.
Oil company Aera Energy shut off the affected pipeline owned by Crimson Pipeline, but some oil still in the line continues to ooze out. Aera is a natural gas producer, transporting about 13,000 barrels to nearby oil refineries every day. Crimson Pipeline owns an estimated 1,000 miles of pipeline in Southern California counties Kern, Los Angeles, Orange and Ventura, as well as some Northern California counties.
In May of last year, over 120,000 gallons of spilled oil slicked up parts of the ocean near Santa Barbara County, killing birds and sea lions.
You can share this story on social media: