4th of July canceled after ex-marine's rape & murder of Japanese woman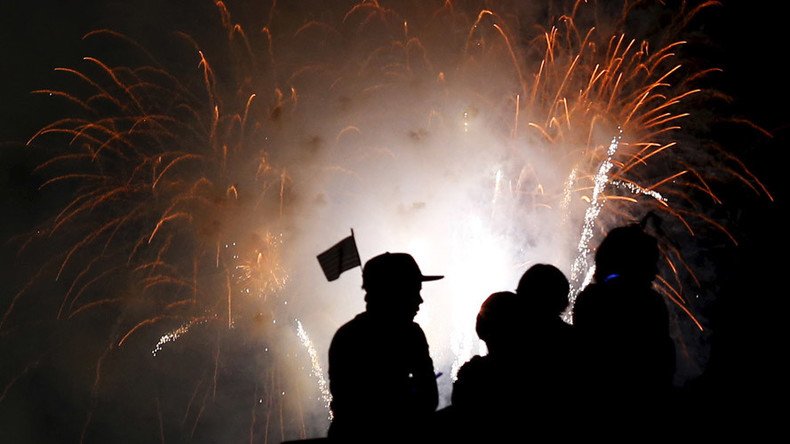 US bases in Japan will be without fireworks on the 4th of July due to restrictions following the brutal murder of an Okinawan woman by a marine.
Anger against the US military presence in Japan has grown after a string of gruesome criminal offences by military personnel.
Along with firework displays to mark the America's Independence Day, live entertainment, including a performance from Usher, was canceled as a "period of unity and mourning" is observed by US military.
A ban on alcohol consumption on and off base on Okinawa had, for 11 days, also been in effect for military personnel.
In a statement from Lt. Gen. Lawrence D. Nicholson, he said it was "probably still too soon" to celebrate the signing of the Declaration of Independence in the wake of the murder of 20-year-old Rina Shimabukuro in April, according to Stars & Stripes.
Former marine Kenneth Gadson confessed to strangling and stabbing Shimabukuro before stuffing her into a suitcase and transporting her body into the woods.
Gadson, who also goes by his Japanese wife's name of Shinzato, pleaded guilty to the crime on May 19.
The murder of Shimabukuro is the latest incident to add shame to the presence of 25,000 US troops in Japan. In March, also in Okinawa, a Japanese woman was raped by Navy sailor Justin Castellanos after he found her unconscious in a hotel room.
In early May Aimee Mejia, a 21-year-old petty officer was arrested on suspicion of drunk driving in Okinawa after she crashed into two cars while driving the wrong way on a highway.
A midnight curfew along with an alcohol ban has been imposed on all military personnel on the island following the crimes.
The small concessions haven't been enough to calm Japanese residents though, who turned out in their thousands to protest at US military bases across the nation.
Some 65,000 people were estimated to have protested in Okinawa according to Kyodo News, displaying signs reading "Marines, Withdraw" and "Our anger has reached the limit."
READ MORE: One of biggest protests in 2 decades: Over 50,000 Okinawans gather for anti-US military rally
Chief Cabinet Secretary Yoshihide Suga announced a review of the Status of Forces Agreement (SOFA) at a Monday press conference.
Hours later, the US government said it would also support a reappraisal of the agreement, which limits Japan's jurisdiction over US military in the country, according to the Japan Times.
The topic dominated talks between President Obama and Japanese Prime Minister Shinzo Abe last month when the US president visited.
"I have asked the president to carry out effective measures to prevent a recurrence of such crimes" Abe told journalists after an hour long meeting with Obama.
You can share this story on social media: