'This is a gasp': 10% of Cal State University students homeless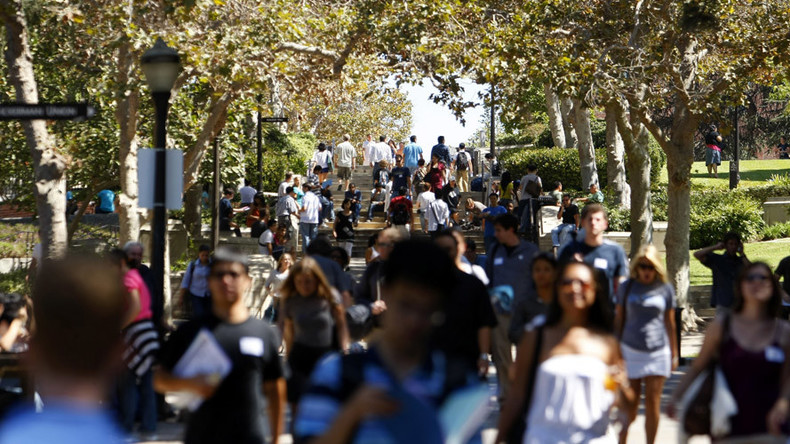 Around one in 10 of the students attending the largest four-year public university system in the US is homeless, while one in five cope with food insecurity, according to a new study by the California State University system.
The California State University system, one of three public university systems in the Golden State, began its ongoing study of homelessness and food insecurity among its students in April 2015. The initial findings of the study are the topic of an information-sharing conference this week that includes system administrators, students, and many others.
The first round of data shows that 8 to 12 percent of Cal State's 460,000 students are homeless, while 21 to 24 percent lack consistent food sources.
"This is a gasp, when you think about it,"said Timothy P. White, chancellor of the Cal State system, at the conference in Long Beach on Monday.
White commissioned the study in February 2015 "to shed light on how CSU campuses were meeting the needs of displaced and food insecure students and to offer recommendations to ensure success and graduation for these students," according to the report.
The first phase of the study included interviews with 92 students and gatherings of four focus groups at a variety of Cal State campuses. Rashida Crutchfield, assistant professor in the School of Social Work at Cal State Long Beach, led the initial phase. Her team sent surveys, combed university system resources, and called for insights into homelessness on campus from system faculty, staff, administrators, and students.
Crutchfield said her team spoke with professors who kept food and money at their desks for students in need. Yet, overall, many students and faculty members reported a misunderstanding of homelessness and that, in the case of students, it includes couch surfers or those who live out of their vehicles.
The study found that 11 of the 23 CSU campuses have some sort of food pantry or homeless support services for students.
"Systemic strategies found most common were food pantries, food vouchers, and participant referrals and linkages for students to community housing facilities or other social service resources," the study said.
All but one campus reported having at least one person on staff to respond to students in need of housing or food, according to the study, though "the most common response to students with food and housing insecurity was aspirational in thinking and limited in practice."
Staff, faculty and administrators interviewed in the initial phase of the study said they often approached needy students on a case-by-case basis, fearing that the development of a systemic approach would lack in resources to fully support students' needs.
About half of staff, faculty and administrators interviewed said they were confident in their knowledge of on- and off-campus resources for needy students, while a majority of interviewees said information about campus services available to students was lacking.
The study's researchers recommended a "system-wide commitment" to funding and access to services available to students on campuses.
"CSU campuses are developing programs to support the needs of displaced and food insecure students; however, a greater understanding of this student population, their experiences accessing and utilizing existing services, and their rates of retention is needed," researchers wrote.
Crutchfield said the study will continue for another two years with the aim of collecting further data in order to launch effective support programs at each CSU campus, according to the Los Angeles Times.
You can share this story on social media: