Thousands of Minnesota nurses enter 3rd day of strike, employer insists all is fine (VIDEO)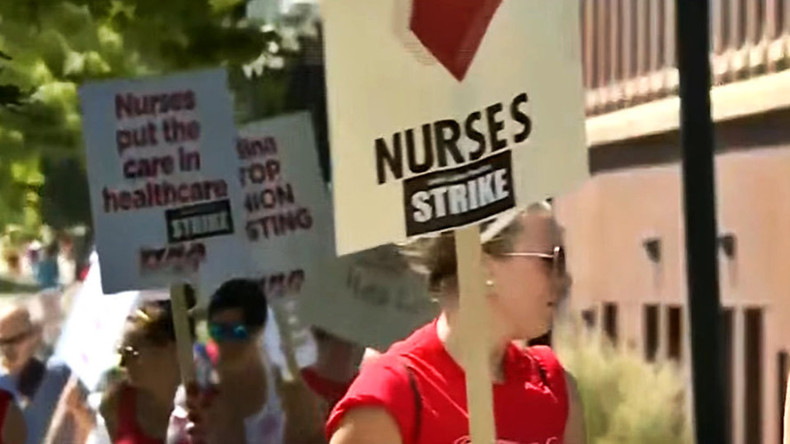 Nearly 5,000 unionized nurses from five hospitals around Minneapolis have been on strike since Sunday, protesting changes to their health care plans. The not-for-profit employer says patients are receiving the same care as usual.
Some 4,800 nurses from Abbott Northwestern Hospital in Minneapolis, Mercy Hospital in Coon Rapids, the Phillips Eye Institute in Minneapolis, United Hospital in St. Paul and Unity Hospital in Fridley will enter their third day of industrial action on Tuesday.
The Minnesota Nurses Association members are demanding no alterations be made to their health care plans in a new three-year contract under negotiation with Allina Health, which owns the hospitals.
About one-third of the striking nurses took to the picket lines in front of the hospitals on Sunday, from 7:00am to 7:00pm, and an estimated 600 demonstrated at Abbott Northwestern, according to the Minneapolis Star Tribune. They continued on Monday and are scheduled to keep up the 12-hour days of pressure at least until this coming Sunday.
Allina wants to move the union nurses to health insurance plans used by over 30,000 of its other workers. They have lower monthly premiums, but the plan's out of pocket costs are more expensive, something the employer believes will lead to more prudent decision-making in employees as patients and also save the company $10 million annually.
Dr Penny Wheeler, president and CEO of Allina Health, said the company is "eager to get back to the negotiating table with the union," during a Sunday news conference.
"We believe we can solve these issues through a constructive dialogue," she said.
While health care is the main sticking point, the union also has concerns over nurse-patient ratios, safety in the workplace and wages. Allina's offer is a two-percent wage increase every year for the next three years, while the association wants to see a three-percent yearly raise. No further talks have been scheduled yet.
The conflicts between Allina and the Minnesota Nurses Association don't end there, however. A war of words in the media has erupted, as Dr Wheeler maintained during the Sunday press conference that all was going smoothly at the five affected hospitals. While the company praises the 144 union nurses who continue working, their striking counterparts have accused them of being informants. The strikers have leaked stories of mishaps and irregularities around patients.
"We hear managers calling nurses on the strike line asking them where to find equipment," Mat Keller, Regulatory Nursing Specialist for the Minnesota Nurses Association, said, according to WCCO. "We have heard of patients' catheters not being able to be placed after an hour of the replacements trying to find the right spot."
"We have heard just the opposite frankly," Dr Wheeler told the news station.