Gun manufacturer seeks dismissal of Sandy Hook families' lawsuit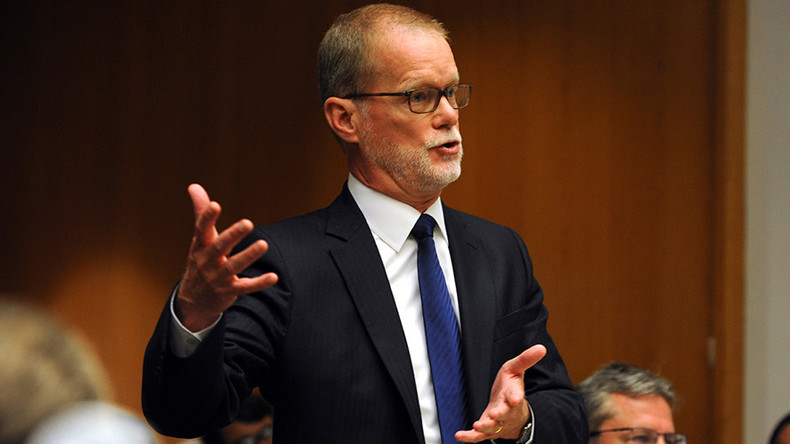 A lawsuit from some relatives of Sandy Hook shooting victims may be dismissed if gun manufacturer Remington Arms prevails. The families argue the AR-15, the gun used by Adam Lanza to murder 20 children and six adults, is not suitable for civilian use.
The lawsuit claims that Remington Arms marketed the Bushmaster AR-15, the weapon used in the Sandy Hook mass shooting, in a militaristic fashion that appealed to those with intentions of inflicting large numbers of casualities, the Hartford Courant reported.
Josh Koskoff, attorney for the plaintiffs, told the court that advertising for the rifle was targeted "particularly [to] younger men who were military wannabees."
"How did a weapon used in Vietnam and streets of Fallujah end up on the floor of Vicky Soto's first grade classroom?" Koskoff asked, adding, "It did not get there by accident and the shooter did not use it by accident. Remington made the choice to trust the most notorious killing weapon the military has ever seen to civilians. If they didn't choose to sell the gun to civilians, we wouldn't have had a Sandy Hook."
Speaking at a heavily-attended hearing in Bridgeport, Connecticut, Remington's attorney, James Vogts, told the judge that "it is not the court's job to ban things. That is a legislative issue."
Attorneys for Remington and other gun companies have pointed out that Adam Lanza never purchased an AR-15. However, his mother, Nancy Lanza, used her legal gun permit to purchase the gun. The AR-15 was first used by Adam Lanza to kill Nancy before he went to the Sandy Hook Elementary School, where he would fire 154 shots in under five minutes, killing 26 people.
Remington is not the only company involved in the lawsuit. Also named is Camfour, a wholesale firearms distributor that supplied the AR-15 to the no-longer-operational East Windsor store where the Lanza's mother made her purchase.
Vogt told Judge Barbara Bellis that the case should be ruled out on multiple technical grounds, specifically the Protection of Lawful Commerce in Arms Act (PLCAA) – a federal law.
"If PLCAA doesn't prohibit this case against Remington that what kind of case would it prohibit?" he asked in his closing arguments, adding, "PLCAA was enacted for this very type of case - to prevent attorneys from coming up with these novel theories."
Bellis has a question of her own to ask Vogt, saying, "Cigarettes are legal, but society doesn't consider them safe, why doesn't that same concept apply with respect to an AR-15?"
Camfour's representative, Christopher Renzulli, told the court, "Clearly this is a legislative issue, not a legal one. Camfour didn't even sell this weapon," adding, "Camfour didn't entrust the weapon to someone who would use it illegally. Camfour didn't sell the firearm to Adam Lanza."
Renzulli, an attorney whose website claims "extensive success obtaining dismissals for his clients pursuant to the Protection of Lawful Commerce in Arms Act," argued that allowing the lawsuit to proceed would put all federally-licensed firearms companies at risk of being held liable.
Koskoff is arguing that the PLCAA does not protect the defendants in the case due to a "negligent entrustment" exception along with the Connecticut Unfair Trade Practices Act, according to the Associated Press.
"It was Remington's choice to entrust the most notorious military American killing machine to the public and to continue doing so in the face of mounting evidence of its association with mass murder of innocent civilians," Koskoff told the judge.
Bellis has ruled against earlier attempts to use PLCAA to dismiss the case. However, she has yet to make an announcement regarding the case and is expected to return with a ruling within 120 days.