Welcome to the 'Heat dome': Extreme temps intensify fires and public health, forcing evacuations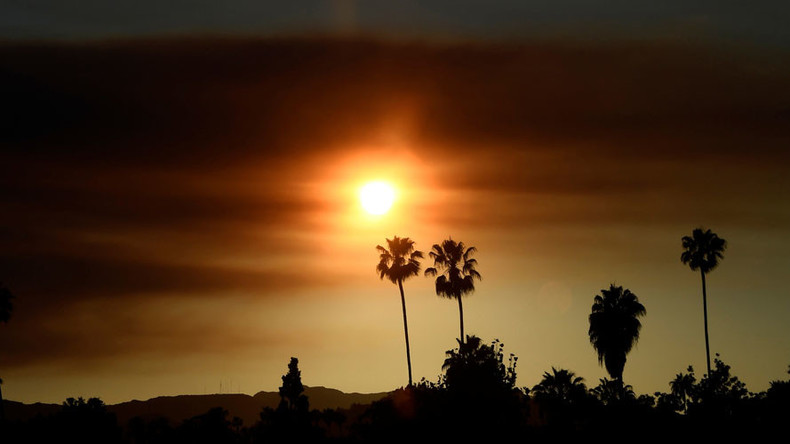 The first day of Summer isn't even over and already The Southwestern United States is sweltering with temperatures hovering at 120 degrees Fahrenheit (49 Celsius), earning itself the hottest new weather term - the 'heat dome.'
Pushing warm air towards the surface, the dome is causing record-breaking temperatures in one of the hottest places in the world.
Facing 'excessive heat' warnings, Southern California saw temperatures rise to 111F (44C) on Sunday, smashing previous highs and causing power outages in Orange County.
Sadly, for those suffering under the wrath of the terrordome, things are just getting warmed up. People are being encouraged to avoid going outdoors and emergency services are assisting those most at risk particularly homeless people and elders.
Fires broke out in the Angeles National Forest in Los Angeles County on Monday. Police ordered evacuations for Mountain Cove, Rainbow Ranch and Crystal Canyon neighborhoods in the city of Azusa. Another fire is affecting the neighboring city of Duarte, but there are no evacuations ordered there as of this time.
One of the fires reportedly came from a vehicle that crashed in the Angeles National Forest just before 11:00 am local time.
In Santa Barbara, the 'heat dome' is exacerbating the so-called Sherpa wildfires, with crews struggling to take control.
READ MORE: Whirling 'fire devil' spotted as California bush blaze rages (PHOTOS, VIDEOS)
Heat domes are created when high-pressure systems form in the mid-to-upper atmosphere. Air pressure then pushes warm air towards the surface trapping it there and driving temperatures up above their average in oven-like conditions.
The current dome above the US southwest spans from roughly San Diego to Kansas City, according to the Washington Post.
Domes are measured by the geopotential height equal to 500 millibars of pressure - and the higher the number, the hotter it is. This week could see the level exceed 20,000 feet (6,000 meters), a rare but growing occurrence in recent years.
That trend upward is what worries scientists who point to climate change as the cause.
Heat domes "are expected to happen more often in the future," according to National Climatic Data Center meteorologist Jake Crouch, who told Live Science that, "as the average temperature increases, these types of events become more frequent."
The increase in global temperatures weakens the jet stream, which moves weather from west to east across North America, leaving the heat domes to linger.
New Mexico and Arizona have also seen record-breaking temperatures with wildfires in both states. In Arizona four people have died in heat related incidents, including two hikers. A temperature of 118 degrees was recorded in Phoenix on Sunday, according to CNN.
Last year, a heat dome in Iran caused a temperature of 165 degrees F (74C), amongst the highest ever recorded.