Orlando fallout: Mateen's family put on no fly lists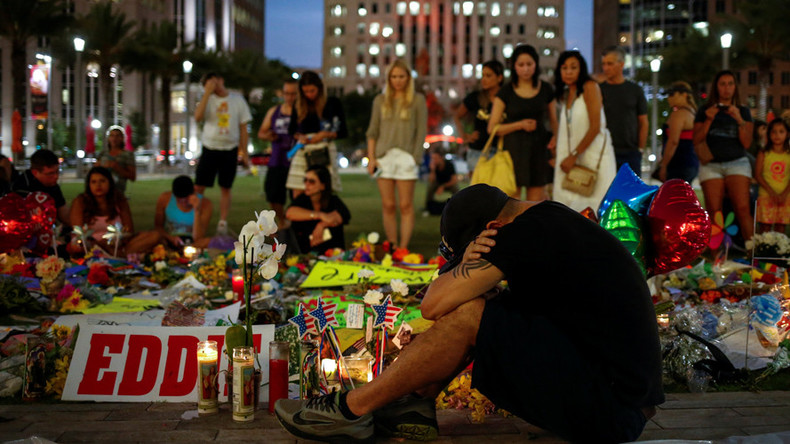 Omar Mateen's father and wife were added to the US' no-fly list as investigators try to determine what role they played in the Orlando massacre in which 49 club-goers were killed and 53 injured.
Federal officials have added Omar's father, Seddique Mateen, and his wife, Noor Salman, to the government's no-fly list, according to NBC News, although a spokesman for the US Government Terrorist Screening Database would not confirm that.
"Disclosure of an individual's inclusion or non-inclusion in the TSDB or on the No Fly List would significantly impair the government's ability to investigate and counteract terrorism and protect transportation security," US Government Terrorist Screening Database spokesman Dave Joly told NBC News.
The decision comes as investigators are still trying to determine what role, if any, the pair played in the massacre.
Once on the no-fly list, people are barred from travelling on commercial airlines.
In part, what peaked the investigators' interest was that while Mateen was holed up in a bathroom with hostages at Pulse two hours after the massacre began, he texted Salman to ask if she had seen the news. She typed back, saying that she loved him, according to CNN.
Salman claims that she tried to dissuade her husband from carrying out his sick plan. ABC News also reported that she was with her husband when he recently bought ammunition and a holster.
Salman has told to the Federal Bureau of Investigation that she had reason to believe Mateen wanted to commit violence, while maintaining that she had tried to talk him out it. Despite those leaks, officials told the Wall Street Journal that her claims and how much she really knew could not yet be verified.
As of now, no charges have been filed against either Salman or Seddique Mateen.
Domestic Purple Heart for soldier
Antonio D. Brown, a 30-year-old Army reserve captain, was killed at the nightclub massacre and might qualify for a Purple Heart medal if investigators find the attack was motivated and inspired by the Islamic State terror group (IS, formerly ISIS/ISIL), the Pentagon said on Thursday, according to Stars and Stripes.
The Purple Heart comes with specific monetary and military burial rights, but until recently it was limited to those sustaining injuries in combat. That changed in 2014, when Congress changed the rules and awarded military personnel killed or injured in the 2009 Fort Hood attack. Purple Hearts were also issued to five members of the military killed in shootings at two naval centers in Chattanooga, Tennessee in July of 2015.
Under the new definition, a member of the military can qualify if their non-combat injuries or death on domestic soil were determined to be inspired by or conducted by a foreign terrorist organization.
Terrorism or gun violence
A new CNN poll finds that members of different political parties have conflicting views of the Orlando massacre. The majority of Republicans, 79 percent, believe the incident was "Islamic terrorism," while only 29 percent of Democrats do.
For 60 percent of Democrats, it was an act of "domestic gun violence," while only 16 percent of Republicans saw it that way. There was a more even split among Independents, with 44 percent considering the massacre "Islamic terrorism," and 42 percent seeing it as "domestic gun violence."
The poll was conducted on June 14 and 15 with a random sample of 1,021 adults aged 18 and older living in the US.
CBS busted for gun straw purchase
In an attempt to prove how easy it is to purchase dangerous weapons, CBS News conducted an undercover sting operation at a gun store in Alexandria, Virginia, according to the Washington Free Beacon.
A CBS news producer, Paula Reid, filled out "federal and state forms requiring her name, date of birth, Social Security number, and a few basic questions about any past criminal activity or current restraining orders and she passed a brief electronic background check."
Reid told the store's general manager that she was purchasing the gun for her own use. However, in reporting the story, the CBS host said the gun had been purchased for the story and then transferred to a third party a few hours later.
On hearing this, the store owner contacted the Bureau of Alcohol, Tobacco, Firearms and Explosives (ATF), fearing that the station's actions could constitute a straw purchase, which is a federal crime.
"Due to information provided in the CBS News report..., I suspect Ms. Reid committed a straw purchase and procurement of a firearm under false pretenses," Ryan Lamke, SpecDive Tactical general manager, told the Washington Free Beacon.
Gay blood donation ban
A gay congressman is calling for the FDA to overturn its ban on gay men donating blood. The call comes after much of Orlando's gay community was unable to give blood to help those wounded in Sunday's massacre.
"The Orlando blood bank put out the call that they needed several kinds of blood, luckily donors stepped up. Of course, the friends, the loved ones, and even spouses of those directly affected were unable to give in that way," Representative Jared Polis (D-Colorado) told CNN.
The FDA's policy bans blood donations from men who have had sex with other men. The rules were first put into place in 1985 during the AIDS epidemic, when little was known about the disease. In December of 2015, the FDA revised its rules to only ban men who had had sexual contact with another man within the past 12 months.
Representative Polis said it is a "very bizarre and perverse situation that actually endangers our national blood supply, where if somebody happens to be straight but has had unprotected sex with multiple partners of the opposite sex, they're allowed to donate. But if somebody is gay and married and in a monogamous relationship they are actually screened out."
All donated blood undergoes 13 tests, including those for infectious diseases like HIV, hepatitis, and syphilis. While it is possible to detect HIV in a unit of blood nine to 11 days after infection, it generally takes three months for the body to produce enough antibodies to be detected by an HIV antibody test. For some people, it can take up to six months.
When the White House was asked about the possibility of changing the policy, press secretary Josh Earnest said further changes would be rooted in "advice that we're getting from the scientists at the FDA."
You can share this story on social media: