Cost of most popular Obamacare plans to spike by double digits in 2017 – report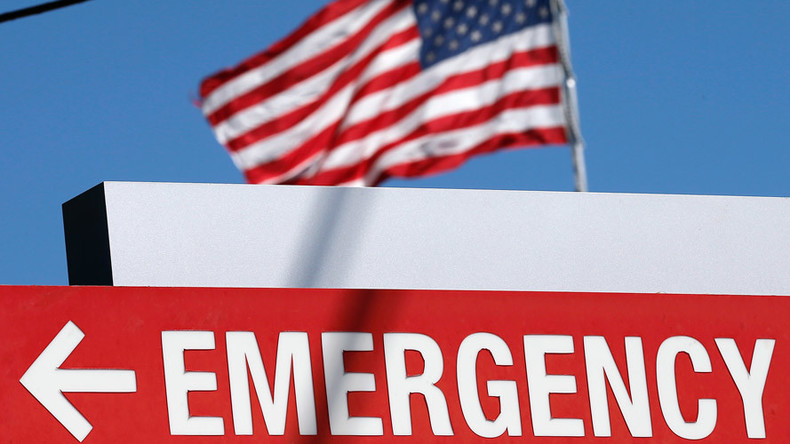 Popular Obamacare plans are expected to come with a double digit price hike once enrollment for 2017 begins mere days before the presidential election, a new analysis predicts. It also found a steep drop in the number of health insurers.
The research released on Wednesday by the Kaiser Family Foundation (KFF) suggests that next year's price increases for Affordable Care Act (ACA) plans, colloquially named Obamacare, are going to be higher than in recent years.
For its analyses, the non-profit took prices for the lowest-cost and second-lowest silver marketplace plans for a single 40-year-old non-smoker with an income of $30,000 per year. These two "benchmark" plans serve as good examples, because they are the most popular plans across the country. According to KFF's statistics, 68 percent of enrollees tend to choose the silver plans, while 23 percent go for the bronze.
"Across the 14 cities we examined, the premium for the lowest-cost silver plan is increasing by a weighted average of 11% in 2017, though changes vary geographically ranging from a decrease of 14% in Providence, Rhode Island, to an increase of 26% in Portland, Oregon," KFF wrote in its study.
For example, in Burlington, Vermont, monthly rates for the lowest-cost silver plan are predicted to reach $482, nearly $20 more expensive than in 2016. On the contrary, in Rhode Island and Indiana, similar plans are expected to cost less in 2017 than they did this year.
The overall pattern is also expected to hold for the second-lowest silver plan. Researchers expect to see an average hike of 10 percent from 2016, which is 5 percent higher than the change for last year. These plans would be most expensive in Portland, Oregon.

The unfortunate prediction is based on rough calculations from major cities across 13 US states and the District of Columbia, where health insurer rate filings submitted to state regulators were publicly available.
The researchers say that their predictions for the rate hikes are "preliminary" and could still be raised or lowered during these states' rate review processes.
It is noteworthy that the KFF-predicted that the rise in premiums would not reflect what enrollees receiving premium tax credits would actually pay. Their contribution would depend on a percentage of their incomes and family sizes.
The KFF also predicted that, in the 14 areas examined, fewer health insurers would be offering their services in 2017.
"On average, 5.5 insurers (grouped by parent company) will offer coverage in these 14 states in 2017, which is slightly less than the average participation in 2015 and 2016 (an average of 6.4 and 5.9, respectively), and equal to the number that participated in 2014 (5.5 on average)," the researchers said.
At the same time, Maine, New Mexico, and Virginia will see an increase in insurer participation, while DC, Nevada, and Vermont will have the same number of insurers as they did in 2016.
The enrollment period for the ACA plans is set to open on November 1, 2016, just days before the presidential elections, and last until January 31, 2017.
The Obama health care law has been one of the major bones of contention between Republicans and Democrats in recent years, especially during the current presidential race. GOP presumptive nominee Donald Trump promises to come up with an alternative, while Democratic presumptive nominee Hillary Clinton wants to expand it and lower premiums.