High turnover: Oakland interim police chief replaced after one week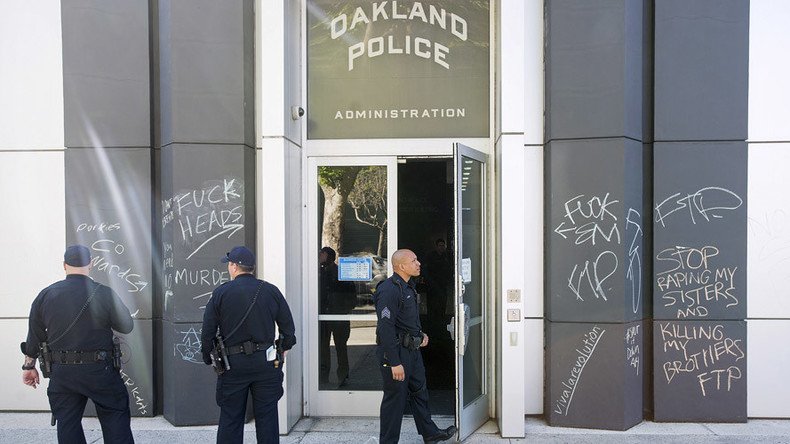 Oakland has hired its second interim police chief in less than a week. Ben Fairow was replaced after revelations that led to his leadership being 'reconsidered' – a turnaround that the mayor conceded "may shake the public trust."
Fairow was appointed as Oakland's interim police chief last Thursday following the resignation of the former chief, Sean Whent. However, on Wednesday, it was announced that Fairow's tenure would not last longer than a week.
In a succession faster than one out of Game of Thrones, Oakland Mayor Libby Schaaf replaced Fairow with Assistant Chief Paul Figueroa, San Francisco Fox-affiliate KTVU reported.
In a statement emailed to the Los Angeles Times, city administrator Sabrina Landreth said that the city had "received information that has caused us to reconsider Ben Fairow's ability to now lead the Oakland Police Department."
Shaaf doubled down on her decision, saying, "I made the decision to appoint Ben Fairow; I also own the decision to remove him," the East Bay Times reported. "I firmly believe that when you make a mistake, you need to own it, and act quickly to correct it."
She also acknowledged that the sudden turnover may mar the already dubious image of Oakland PD, saying, "I recognize the impact that this chain of events may have on the department and how it may shake the public trust, but I am committed to ensuring the long-term health, stability and effectiveness of the Oakland Police Department."
"This is what must be done to achieve that goal," she added.
News of Fairow's removal came just hours after civil rights attorneys John Burris and Jim Chanin held a news conference to announce that they were considering asking a federal judge to get involved in the Oakland PD's hiring and recruitment practices, the San Francisco Chronicle reported.
While City Hall has yet to comment on why Fairow was removed, City Councilman Noel Gallo told the LA Times, "The thugs in the street are better organized than we are at City Hall."
Many believe that Whent resigned after the East Bay Express, a Bay Area newspaper, alleged that he may have been aware of a sex scandal involving at least 14 Oakland police officers and an underage sex worker.
The woman was 17 years old when she became involved with various members of the Oakland Police Department, some of whom warned her about prostitution stings in advance. The woman claims that Whent's wife, Julie Whent, had contacted her online in June 2015. The woman then told Julie that she had been sleeping with various members of the department as a minor.
In Whent's resignation letter, he claimed to be resigning because "the timing is good for me to move on and explore other opportunities."
In commenting on the sex scandal, Fairow said, "I'm confident in our investigative staff, that they will get to the bottom of every corner of this investigation and make sure the right thing is done," the East Bay Times reported.
You can share this story on social media: