FBI found over 300 classified docs on computer of Petraeus' mistress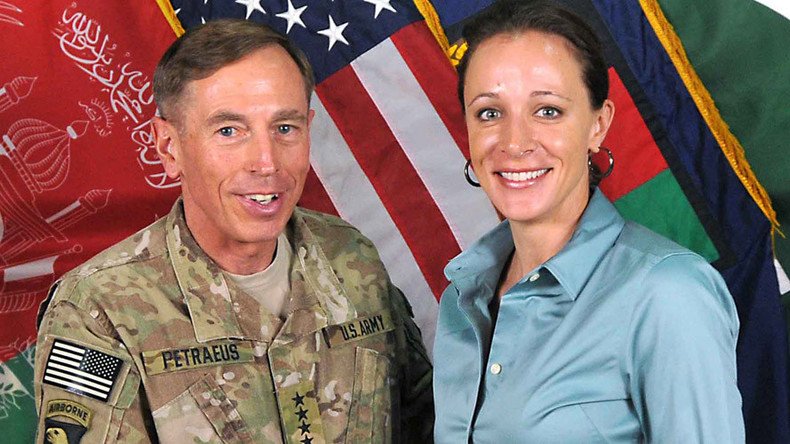 Newly released documents reveal that during the search of former CIA director David Petraeus' home, the FBI discovered more than 300 classified documents on the personal computer of his biographer and mistress, Paula Broadwell.
Documents related to the home search-related FBI affidavit were unsealed Tuesday by the US District Court in Eastern Virginia. The search warrant was requested as part of a sweeping federal investigation into the relationship between Broadwell and Petraeus, a highly decorated military commander.
The probe uncovered the affair, revealed their mishandling of classified documents, and led to Petraeus' resignation as the head of the CIA. Petraeus pleaded guilty to a misdemeanor charge of mishandling government documents and was fined $100,000.
The documents were partially redacted and were sealed for more than three years. What they showed is that both Broadwell and Petraeus misled investigators about their extensive exchange of classified material, mostly involving military and diplomatic operations during Petraeus's years as commander of the wars in Iraq and Afghanistan.
Broadwell did have security clearance to handle classified information but was not given authority to remove the information "from authorized storage facilities" or store the classified information "in unauthorized locations," according to the affidavit.
The FBI gathered two audio recordings in their search of Broadwell's home, in which the four-star Army general spoke with reporters about information that was classified as top secret.
"There was a recorded conversation between Petraeus and, inter alia, Washington Post reporters, which, based on information and belief of your affiant, occurred in or about March 2011," Special Agent Diane Wehner wrote, according to Politico, which obtained the court document.
"In the conversation," Wehner continued, "Petraeus stated, 'I would really love to be on background as a senior military officer.' Later in the recording, Petraeus discusses sensitive military campaigns and operations, some of which, on the basis of a preliminary review... is believed to contain classified information, including information at the Top Secret level."
In the second audio recording, a talk between Petraeus and a reporter, Petraeus asked that the information he provided be attributed to a "defense official familiar with Petraeus's activities," according to Wehner.
The affidavit also reveals Petraeus tried to stop the FBI investigation as soon as he heard about it and that he and his mistress tried to hide their correspondence by using prepaid cell phones or "burner" phones as well as multiple email accounts "using non-attributable names."
Petraeus was only indicted with sharing classified information with Broadwell, but the search warrant request documents show the possibility of disclosures to reporters.
You can share this story on social media: