600-acre Tenderfoot wildfire causes home evacuations closeby in Yarnell, Arizona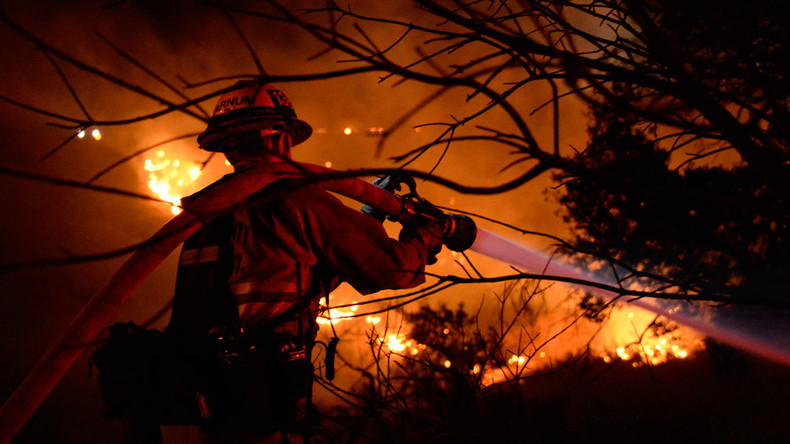 People are evacuating their homes near Yarnell, Arizona, following a wildfire breaking out in the Tenderfoot hills.
The #Tenderfoot fire quickly spread to cover 300 acres Wednesday afternoon, according to Phoenix NBC-affiliate KPNX. Later in the evening, officials confirmed it grew to 600 acres, according to ABC-affiliate KNXV.
Power outages and high temperatures reportedly hampered the firefighters' efforts.
"Right now as we speak the fire is coming down over the mountain right in front me," said Yarnell resident, Patrick Bernard, a miner and father of five, according to KPNX. "There's a lot of smoke on the east side and it's burning the top of the mountain right now. It's coming across the east line of Yarnell, burning across the edge of those houses. And there's helicopters dropping water."
The Bureau of Land Management and state fire crews are battling the flames near Yarnell.
Yarnell has a history with destructive wildfires. Three years ago, the Yarnell Hill Fire killed 19 Granite Mountain Hotshots, firefighters in a special wildfire division of the Prescott Fire Department.
"Conditions in Central Arizona are ripe for fire," tweeted author Fernando Santos, who has written about fire fighting. "Hot, dry and windy with the #TenderfootFire growing to 400 acres from 25 acres in past two hours."
The official population of Yarnell was 649, at the time of the 2010 census.
The town's economy is based on ranching, mining and services to travelers and retirees.
The Yavapai County Sheriff's Office posted a notice stating that the fire is currently concentrated on the east side of Yarnell, which is under mandatory evacuation.
Officials also confirmed that one building has been burned, but no injuries have been reported.
The cause of the fire is unknown at this time. Shelter is being provided by Yavapai College in the city of Prescott, with over 200 evacuees heading there with services provided by the Red Cross.
Over 1,000 people are without electricity, according to Phoenix Fox-affiliate KSAZ.
Republican Senator John McCain of Arizona tweeted that he was praying for the community, stressing that wildfires and water are top environmental issues in the state.
The Bureau of Land Management reported that firefighting aircraft have laid down a line of fire retardant around the east side of Yarnell to try to protect the town.
As night falls.