Shocking child kidnap attempt foiled by mother in grocery store (VIDEO)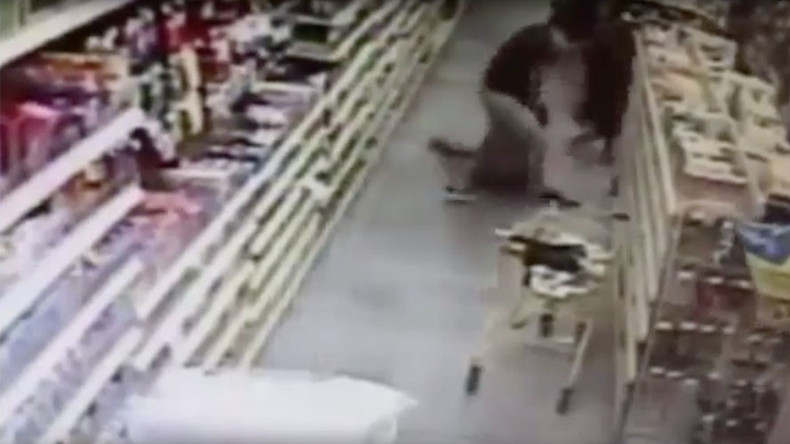 The extraordinary moment a man tried to abduct a teenager from a Florida supermarket has been captured on CCTV, showing the failed kidnapper dragging the stunned girl through the store's aisles before her mother fought him off.
The 13 year old was accompanying her mother on a midweek grocery run at a Dollar General Store near Citrus Hills in Hernando, Florida.
But the Tuesday trip to the store became the stuff of nightmares when a man suddenly approached the pair and tried to wrench the child away.
CCTV footage released by investigators reveals the brazen attempt unfolded in a matter of seconds, with the man grabbing the teenager by the arm, pulling her to the floor and smashing her into a shopping cart.
Her shocked mother can then be seen leaping into action and hanging onto the youngster's legs as the assailant tries desperately to drag the teenager towards the exit.
The incident happened at the outlet near Trucks Avenue on Tuesday at around 11.45 a.m. local time, report 10 News Tampa Bay.
Craig Bonello, 30, of Hernando is now facing charges of attempted kidnapping and child abuse, according to the Citrus County Sheriff's Office in Florida.
Bonello was apprehended in his car moments after the kidnap attempt by off-duty deputy Jonathan Behnen, who drew his weapon on the suspect.
"We are grateful for the courageous acts of both the child's mother and off-duty Dep. Jonathan Behnen. Thankfully, the child was saved and no-one suffered any injuries during the incident," a police statement read.
Sergeant Craig Callahan of the Citrus County Sheriff's Office told Fox 13 that the kidnapper "truly intended to abduct this child right in front of everyone in the store."
"In my 10 years on the road I have never seen anything like this," he said.