Battleground California: Clinton emerges victorious over Sanders with 56% of votes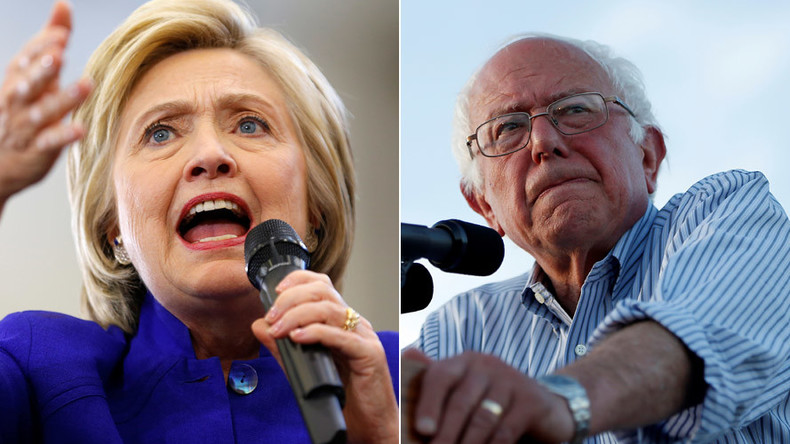 Hillary Clinton has won California's Democratic primary, NBC projects. The presumptive nominee will receive the majority of the state's 475 delegates, with the leftovers going to runner-up Bernie Sanders.
Although votes are still being tallied, Clinton has been dubbed the projected winner in the Golden State, with 56 percent of the votes thus far.
She is also the projected winner in New Jersey, with current numbers showing Clinton with 63 percent of the votes, compared to just 37 percent for Sanders.
North Dakota gave Bernie Sanders his first win of the night while Clinton took New Mexico. NBC has referred to Clinton as the "apparent winner" in South Dakota.
Sanders was also projected to win Montana with 51 percent of the votes. Clinton currently has 45 percent.
Clinton, who currently has 2,497 delegates and 571 superdelegates, has already declared herself the Democratic nominee.
Sanders is standing at 1,663 delegates and 48 superdelegates.
READ MORE: 'Clinton's private hedge fund': Trump blasts Hillary's State Department days
Meanwhile, hundreds of California voters reported problems at polling stations in the state after encountering broken machines, sites opening late, and incomplete voter rolls, particularly in Los Angeles County.
Complaints were provided by the voter hotline run by the Lawyers' Committee for Civil Rights Under Law, while others took to social media to say their names had not been listed on voting rolls.
Many voters said they were handed a pink provisional ballot which instead of leading to a quick in-and-out at voting site, takes longer to fill out and longer for election officials to verify. Often voters are left in the dark as to whether their votes were counted.
Campaigning in California on Monday, Clinton said she and her supporters were "on the brink of a historic, unprecedented moment."
While Clinton warned of the dangers she believes Trump poses to the country, he had already made strong statements about the presumptive Democratic nominee, saying "Hillary Clinton turned the State Department into her private hedge fund...It is a sad day in America when foreign governments have greater influence than the country's people." Donald Trump owes millions to Deutsche Bank.
Both Clinton and Trump made attempts to woo Sanders supporters. Clinton encouraged party unity in her speech saying, "We are fairer together. We are better together. We are stronger together." She also warned Democrats of Trump, telling the crowd "When Trump says a distinguished judge born in Indiana can't do his job because of his Mexican heritage or he mocks a reporter with disabilities or calls women pigs, it goes against everything we stand for because we want an America where everyone is treated with respect and their work is valued."
Meanwhile, Sanders' supporters expressed their discontent with Clinton, the establishment, and mainstream media. During a rally in Santa Monica, California, they shouted "BS" in reference to the above topics.