Missouri officer sentenced to 4 years for tasing teen into coma (VIDEO)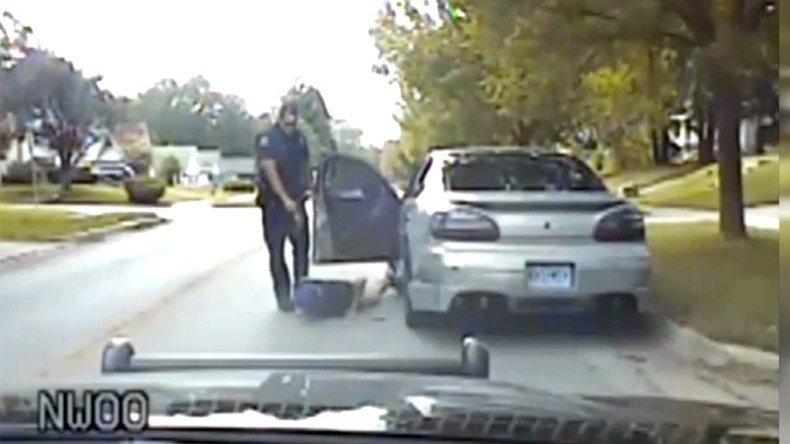 A prolonged Taser attack that left a 17-year-old in a medically induced coma and with a traumatic brain injury has been deemed a civil rights violation. A former Independence, Missouri, police officer, Timothy Runnels, now faces four years in jail.
The US District Attorney's Office released dashcam video footage of the incident that sent Bryce Masters into cardiac arrest during a September 2014 traffic stop. A year later, in order to take advantage of a plea deal, ex-officer Runnels pleaded guilty to violating Masters' constitutional civil rights, avoiding a possible ten-year sentence.
The video evidence against the former officer depicted Masters being pulled over and Runnels ordering him to roll down his passenger side window. When Masters insisted he could hear him fine through the window, Runnels went to the driver's side and opened the door, telling Masters to get out. When the 17-year-old asked if he was under arrest, the officer told him, "I'm going to pull you out, if you don't come out."
Runnels proceeded to drag Masters out of his car by his legs, leading to a struggle. Runnels then said, "Fine. F**k it. Just get out! Out right now!" and proceeded to use a Taser on Masters' chest for 28 seconds – more than four times longer than police are trained to use tasers, KMBC reported.
Masters lost consciousness and went into cardiac arrest, while Runnels threw him to the ground face first. Similar footage was recorded by Masters himself, as well as by Michelle Baker, a neighbor.
Baker described Masters' condition after the incident as grim, saying, "You could tell the kid was going into convulsions. He turned him over and his head was dangling like this and he had blood coming out," and adding, "You could see blood coming out of his mouth," according to WDAF.
Masters is the son of Matt Masters, a Kansas City Police Department veteran with 19 years on the force. Matt inquired about the incident, which police initially claimed resulted from a minor traffic warrant.
"I believe he did crack the window but did not roll it down any further. He was just being completely uncooperative with the officer," Sgt. Darrell Schmidli told KCTV.
The resulting cardiac arrest led to Masters losing consciousness. He stopped breathing for four minutes before emergency services were able to revive him.
This is not Runnels' first experience with questionable judgment. Much like Matt Masters, Runnels worked with the Kansas City Police Department, until 2010 when he resigned under threat of termination for describing an unsuccessful hunting trip, where he said he and his friends tried "n****r hunting," according to The Intercept.
Runnels has been ordered to pay the family $2,700 in restitution and told Masters and his family, "I'm deeply remorseful," and "At no point did I intend to hurt him. But I did."
You can share this story on social media: