Children's 'Walking Dead' photoshoot rocks internet with gory depictions of murder, zombies (PHOTOS)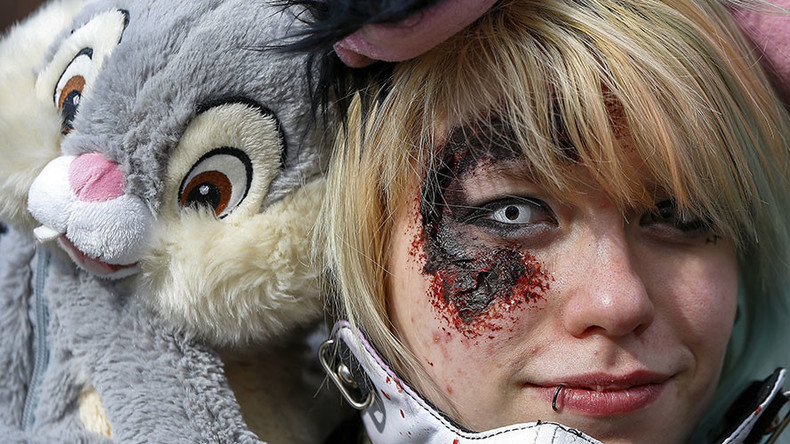 A photoshoot in which young children and toddlers recreate the most iconic and violent scenes from the hit US TV show 'Walking Dead' has sent the internet into overdrive.
Mother Hubbard Photography in New Jersey dressed a group of kids as characters from the zombie horror series and took snaps of them portraying grizzly murders as well as bloodied and beaten zombie corpses.
When the pictures were uploaded to Facebook they were greeted by a mixture of disgust and support. There was even a comparison made to a scene from the Holocaust by one observer, and some social media users reported the images to Facebook for removal. Many others, though, referred to the project as "adorable" and "absolutely amazing".
Proprietor of the business, Alana Hubbard, who involved two of her own children in the photoshoot, saw nothing wrong with it.
READ MORE: Zombie biker! Sleeping man rides moped through streets of Thailand (VIDEO)
"No children were harmed and the blood was photoshopped in," she wrote on Facebook. "It's a fake. All the children were just playing a role and pretending with toys, same as the children on the show."
A clearly exasperated Hubbard was also keen to point out that despite the fact that many of the pictures were taken near railway lines the kids were never in any danger
"I'm so tired of having to repeat myself the photos were done on inactive tracks with literal forest growing through them and haven't been used since the early 1900s," she said. "I would NEVER shoot on live tracks. These are MY KIDS and their friends I would never put them in danger!"
Other particularly striking images from the photoshoot involve an attack with a baseball bat and a cold-blooded shooting.
Some Twitter users were gobsmacked by the images…
...while others were impressed and expressed support.
A video of the kids enjoying themselves in between shoots made it all a little less strange.

But then it got a bit creepy again.