'Grimy business': John Oliver makes TV history, forgives $15m in medical debt he purchased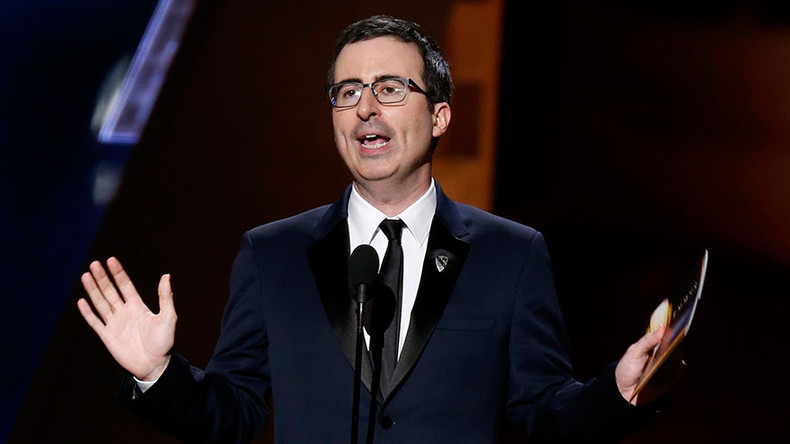 In a scathing attack on the lack of regulations in the debt-collection industry, HBO comedy host John Oliver announced that a debt collection agency formed by his show would forgive $15 million in medical debts held by about 9,000 people.
On Sunday's episode of his show, 'Last Week Tonight,' Oliver detailed the lack of oversight and basic standards of verification in the debt-collection industry. In many states, unlicensed collectors can buy debt from entities like banks at a fraction of the total debt amount. The show gathered news reports of debtors who were hassled and threatened repeatedly by collectors over debts, sometimes even after a declared bankruptcy or death.
'Last Week Tonight' showed hidden-camera footage taken at a Debt Buyers Association conference, during which panelists mocked debtor confusion over their rights while excusing the industry's questionable tactics.
In response to the industry's unprincipled behavior, Oliver's show set up a Mississippi-based debt collection company — "Central Asset Recovery Professionals," or CARP, named after "a bottom-feeding fish," Oliver said. CARP was formed with ease and supported by a basic website.
"Debt buying is a grimy business and badly needs more oversight," Oliver said. "Because as it stands, any idiot can get into it, and I can prove that to you, because I'm an idiot and we started a debt buying company and it was disturbingly easy."
The show "spent $50 to incorporate a debt acquisition company online" in April. With Oliver as the chairman of the board, the company was soon offered a portfolio of nearly $15 million "of out-of-statute medical debt from Texas at a cost of less than half a cent on the dollar, which is less than $60,000," he said. "For that amount, CARP would be sent the personal information — including names, current addresses, and social security numbers — on nearly 9,000 people."
Oliver called the easy debt purchase "absolutely terrifying, because if I wanted to, I could legally have CARP take possession of that list and have employees start calling people turning their lives upside down over medical debt they no longer had to pay."
Instead of collecting the money, Oliver said the show would forgive the debt – not just because it's the "right thing to do," but because the show "would be staging the largest onetime giveaway in television show history" to date, besting Oprah Winfrey's $8 million giveaway to a studio audience in 2004.
The debt portfolio the show had purchased through CARP would be transferred to RIP Medical Debt, a nonprofit that works to forgive medical debt without worry of tax ramifications for debtors, Oliver said.
As of December 2014, 43 million Americans had overdue medical bills that impacted their credit report, according to the Consumer Financial Protection Bureau. The federal agency said at the time that half of all overdue debt on credit reports was attributed to medical debt. Of the consumers with unpaid medical bills on their credit report, 22 percent of them had an otherwise clean credit standing, the CFPB said.
"CFPB is concerned the complex processes by which medical bills are incurred, collected by a wide range of debt collectors, and reported to credit reporting agencies can create challenges for consumers," the agency said when it released a medical debt study.
A 2013 study found that medical bills were the leading cause of bankruptcies in the US, impacting about 2 million people. Most people who have difficulty paying off medical bills do have health insurance, according to a 2014 report by the Kaiser Family Foundation.