'Don't f**king shoot': Parrot singing like a canary over unsolved Michigan murder (VIDEO)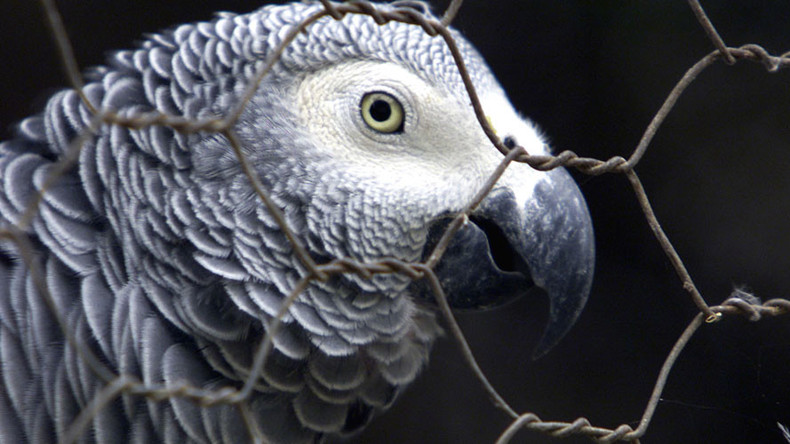 The parents of a man shot in Michigan last year believe his pet parrot witnessed his murder and, in an extraordinary twist, might be mimicking a heated argument leading up to his death.
The African gray parrot belonged to 46-year-old Martin Duram, who was shot dead at his home near Newcosta Avenue, Ensley, on May 13 last year, report WZZM13.
Duram's wife also sustained a gunshot wound to the head in the incident but survived. Her husband's death is still being investigated by Michigan State Police, but no-one has yet been charged over what cops are treating as a homicide.
The case is notable for the fact that it took investigators almost an hour to realise that Duram's wife was still alive, reported MLive.
But in a twist worthy of an outlandish whodunnit, footage of the bird named Bud has emerged appearing to show the feathered animal eerily shouting, "Don't f**king shoot."
Now Duram's family have come forward to say they suspect the ramblings of the parrot, creatures notorious for mimicking their owners, may provide an insight into what happened before the shootings.
"That bird picks up everything and anything, and it's got the filthiest mouth around," Duram's mother told Wood TV 8.
Duram's father said he believes the parrot was in the room at the time his son was shot five times: "I personally believe he was there and he remembers it and he was saying it."
Michigan State Police documents, seen by Wood TV 8, reveal that Duram's wife Glenna is a suspect in the case, following reports she left at least three suicide notes at the scene.
However, she has reportedly denied the shooting.
A GoFundMe campaign set up by one of Duram's three children to raise money for his funeral described him as "a great man" who had suffered debilitating injuries after being struck by a drunk driver in 1995.
"Everyday was a battle for my dad, he had long lasting injuries from his accident. He went to the doctors about three times a week and still always made time for his family," Justin Duram wrote.