Not the time or the place: Grab-happy visitor wrecks museum's clock display (VIDEO)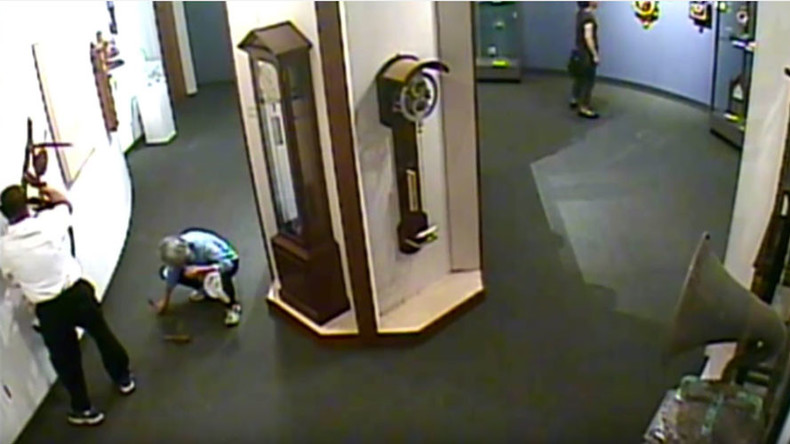 A visitor to America's National Watch & Clock Museum in Pennsylvania is no doubt wishing he could turn back time after curiosity got the better of him and he accidentally smashed an intricately designed timepiece.
The damaged clock was the work of artist James Borden who specializes in wooden, weight-driven clock sculptures.
According to NBC Philadelphia, Borden's work of art was donated to the museum's 13,000 piece collection back in 1994.
Staff at the museum, which boasts the largest horological collection in North America, have released CCTV of the extraordinary moment in a bid to teach careless visitors to keep their grubby mitts off the artwork.
The 90-second video shows a man and a woman walking around a gallery of clocks.
The male visitor then begins to admire an intricately made wooden timepiece hanging on a wall.
In an apparent effort to get the clock running, the man plays around with a spring-weight on the right side of the piece.
However, instead of getting the clock whirring the tourist only succeeds in pulling it from the wall and leaving it in a messy heap on the ground.
"This is why we beg and plead with our visitors to please refrain from touching objects in museums," the caption on the museum's video read.
"The couple did notify museum staff immediately."
Museum owners say the clock can be fixed, but admit it is in need of some tender love and care.
Director of the museum Noel Poirier said that contrary to popular opinion, the biggest culprits of display interference are actually adults, who should really know better.
"There are people who touch things in museums regardless of what you do," he told NBC Philadelphia. "Most times it's adults. People think it's children, but it's really not."