No tennis balls! Cleveland's pre-convention ban doesn't include guns
Published time: 2 Jun, 2016 19:51
Edited time: 2 Jun, 2016 22:43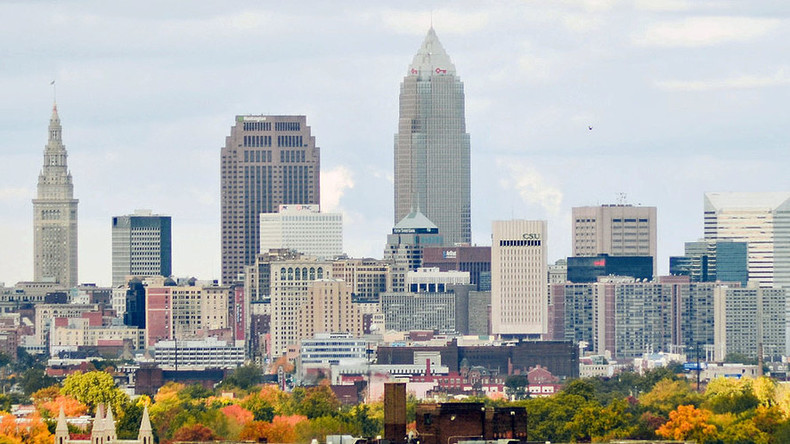 Swords, axes, drones and tennis balls will be strictly off-limits during the Republican convention in Cleveland this July. That doesn't mean Donald Trump can rest easy, however: Guns will still be allowed in the city, due to Ohio's open-carry laws.
Republicans will gather at the Quicken Loans Arena in downtown Cleveland, Ohio between July 18 and July 21 to officially select their ticket for the presidential election in November. With billionaire businessman Donald Trump securing the necessary 1,237 delegates to win the nomination on the first ballot, it does not look like the convention will be contested. City authorities have moved to ensure that things remain quiet outside the arena.
Any "instrumentality used to cause property or personal damage" will be off-limits during the convention, according to regulations published by Cleveland on May 25.
The 15-page document also bans swords, daggers, axes, shovels, drones, pepper spray, metal-tip umbrellas, glass bottles and "any other frangible container," water guns and paintball guns, to name just a few. Also banned are "grappling hooks, sledgehammers, hammers, and crowbars," as well as coolers and camping equipment, locks and gas masks – and tennis balls, for some reason.
Firearms are not included in the ban, however.
Ohio is an open-carry state, which means that any gun owner can legally don a holster in public, according to the Cleveland Plain-Dealer. Those who wish to carry their weapons in secret must apply for a concealed carry permit.
While state legislators have discussed the possibility of carving out an exemption to the open-carry laws, that remains unlikely.
"I would point out that the legislature [has] held its last expected session until November, so I wouldn't expect a law to be passed prior to the convention," Dan Tierney, spokesman for Ohio Attorney General Mike DeWine, told the Akron Beacon Journal.
This does not mean the convention floor will be awash in rifles, however. While Cleveland has no authority to ban guns in the "event zone," the Secret Service can impose restrictions on the "secure zone" of the convention arena itself. The exact boundaries of this secure zone are still a closely-guarded secret.
The convention is expected to attract some 50,000 visitors to the city, including GOP delegates and the media. All hotels in Cleveland have been booked for months, and the city's prohibition on camping inside the "event zone" deals a blow to protesters who intended to picket the convention but cannot afford accommodations.
In addition, Cleveland has severely restricted all marches, referred to in the rules as "parades." They can only last up to an hour, and will need to fully disperse by 5 p.m. on Monday or 2 p.m. from Tuesday onward. Parades are also limited to the official route, which is some distance away from the arena where the convention will be held.
"We are prepared. I can't stress enough that we are prepared for this," Cleveland Police Chief Calvin Williams told reporters last week.
So long as no one brings any tennis balls, anyway.