'On Contact': Pulitzer Prize-winning journalist Chris Hedges joins RT America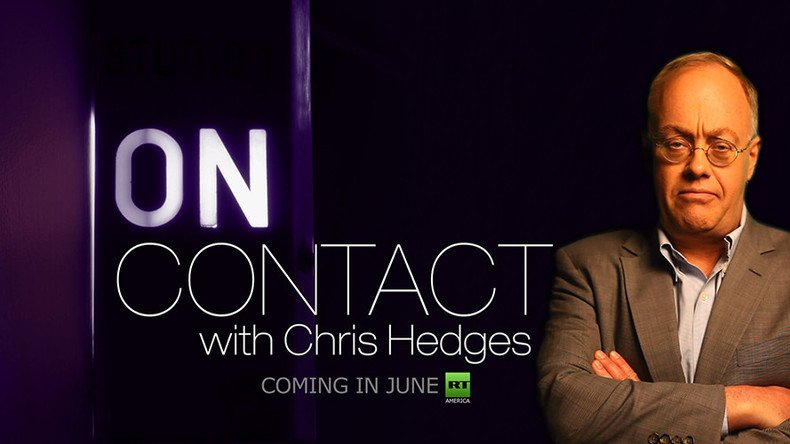 A Pulitzer Prize-winning journalist is joining the RT America team. Author and social critic Chris Hedges will host a weekly interview show called 'On Contact,' which will air "dissident voices" currently missing from the mainstream media.
Hedges will interview the black sheep of the establishment, leading discussions that can't be heard anywhere else.
"The absence of dissident voices from the airwaves, including on public broadcasting that was originally designed to allow those not beholden to the power elites to be heard, has turned the media landscape in the United States into an echo chamber for the powerful and the wealthy," Hedges said.
"Chris and his decades work are a true embodiment of RT's motto 'Question More.' He is unafraid to be a rare voice of dissent in the American news media, however unpopular his position," said Margarita Simonyan, RT's editor-in-chief. "Perhaps if voices like Chris' weren't ignored by the political and media establishments 13 years ago, we could have avoided a lot of the travesties plaguing the Middle East today."
'On Contact' will feature conversations with activists, intellectuals and revolutionaries. As Hedges puts it, his show "will examine the effects of the endless wars, mounting inequality and the steady erosion of our civil liberties, and will give voice to those who offer radical solutions, including those proposed by anti-capitalists, and who have been shut out of the national debate by a corporatized press."
"The constriction of acceptable opinion and debate has eroded the integrity of the press and contributed to the decay of our democracy," Hedges said. "This program will be a program where dissident voices will not only be amplified, but celebrated."
Hedges was an outspoken critic of the Iraq War and criticized the media coverage at the time as "shameful cheerleading."

He will join RT America's hosts Ed Schultz of 'News with Ed,' Larry King of 'Politicking' and 'Larry King Now' and Tyrel Ventura, Tabetha Wallace and Sean Stone of 'Watching the Hawks.'
No stranger to the channel, Hedges has often been a guest on the news and other RT America programs.
"The media landscape in the United States has narrowed the acceptable range of opinion, or been trivialized, to make it little more than a platform for the elites or part of the vast system of entertainment," Hedges said.
"There are few places ‒ RT is one ‒ where critics of corporate capitalism and the American empire can find a voice," he continued. "These voices are vital if we are to find our way back to a democracy. It is for this reason I am doing On Contact with RT."
Hedges began his career covering the Falkland War in Argentina for National Public Radio. He spent nearly two decades as a foreign correspondent, reporting from more than 50 countries for a variety of news outlets. In 2002, he was part of a team of The New York Times reporters awarded a Pulitzer Prize for the paper's coverage of global terrorism.
In 2012, Hedges sued the Obama administration over the National Defense Authorization Act, which gave the US military the power to legally detain individuals without charge or trial. He said that, by simply doing his job, he could be arrested and detained indefinitely due to the nature of his work: reporting.
Hedges has authored 11 books, including several New York Times best sellers. He has a B.A. in English Literature from Colgate University and a Master of Divinity from Harvard University.
He speaks French, Spanish and Arabic and studied Latin and ancient Greek at Harvard.
He has taught at Columbia University, New York University, Princeton University and the University of Toronto. He currently teaches college credit courses through Rutgers University to students at a maximum-security prison in New Jersey. He is married to Canadian actress Eunice Wong.
'On Contact' is recorded at RT's New York bureau, and will first air on Saturday, June 11.
You can share this story on social media: