Corey Jones: Ex-Florida cop charged with murder in 'deliberate' shooting of black man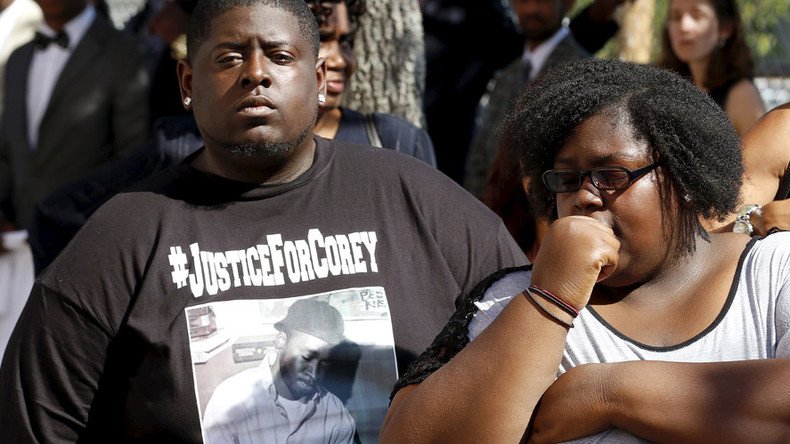 A former Florida police officer has been charged with attempted murder and manslaughter for the "unjustified" on-duty shooting of a black man who died in a hail of bullets in October of 2015. If convicted for murder, he could be jailed for life.
"The Grand Jury today has found that Mr. [Nouman] Raja's use of force was unjustified," State Attorney Dave Aronberg announced Wednesday. "Mr. Raja has been arrested and taken into custody."
The former police officer faces two counts – one for manslaughter by culpable negligence, a second degree felony punishable by up to 15 years in prison, and one for attempted first degree murder with a firearm, which could land him in prison for life.
On October 18, 2015, Raja fired his personal gun three times in two seconds at Corey Jones, a Florida church drummer. He then deliberately fired three more times, once each second, killing him. According to the investigation, Raja had left his department-issued duty firearm in a holster in a car.
Raja was driving an unmarked white van and wasn't wearing a uniform or tactical vest when he approached Jones on highway I-95, north of West Palm Beach. The musician was trying to restart his car, which had stopped on the way back from a performance that evening.
The State Attorney's office has released the probable cause affidavit containing a verbal exchange between Jones and Raja, as well as calls to AT&T Roadside Assistance that were recorded and turned over to the investigation:
Jones: "Huh?"
Raja: "You good?"
Jones: "I'm good"
Raja: "Really?"
Jones: "Yeah I'm good"
Raja: "Really?"
Jones: "Yeah"
Raja: "Get your (expletive) hands up! Get your (expletive) hands up."
Jones: "Hold on!"
Raja: "Get your (expletive) hands up! "Drop!"
Immediately afterwards, the officer fired, and the gunshots were overheard by a Roadside Assistance call center assistant. After 10 seconds, Raja fired again three times, and one of the bullets struck Jones in his chest, killing him.
The officer then called 911 on his personal cell phone to report that he had shot a person, but before the operator could say anything, Raja yelled "Drop that (expletive) gun right now!" to give himself an alibi.
In talking with the operator, Raja said that Jones – a "black man wearing all black" – had a "silver" gun and claimed that the drummer had pointed it at him despite his commands.
However, the prosecution did not accept the self-defense argument, since "ten seconds passed before the second volley of shots," even though Raja claims he saw Jones throwing a gun into the grass.
"We are relieved to learn that Officer Nouman Raja, who senselessly killed Corey Jones, was arrested earlier today and will face criminal charges for his reckless act," the family of Jones said in a statement, according to WPTV news.
You can share this story on social media: