70% of Americans 'feel frustrated' about presidential election – poll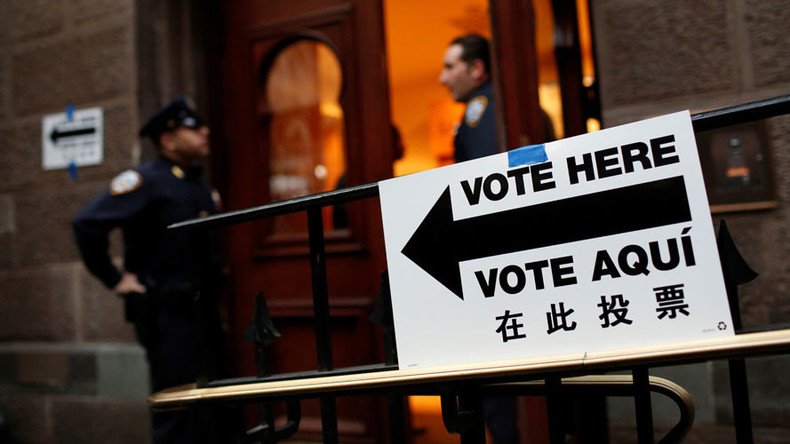 Just a handful of Americans view the 2016 presidential election through rose-colored spectacles, the latest poll has found. Seven in 10 people say they feel frustrated with it, while over half, including majorities in both parties, are angry and helpless.
About one-quarter say they have hardly any confidence that their votes will be counted accurately, a poll by the AP-NORC Center for Public Affairs Research has revealed. As much as 55 percent, including majorities from Democrats and Republicans, say they feel totally helpless about the ongoing election.
Only eight percent of Americans say they have a great deal of confidence in the Republican Party, and 15 percent – in the Democratic Party. Similarly, just 29 percent of Democrats and 16 percent of Republicans have any confidence in their own political parties.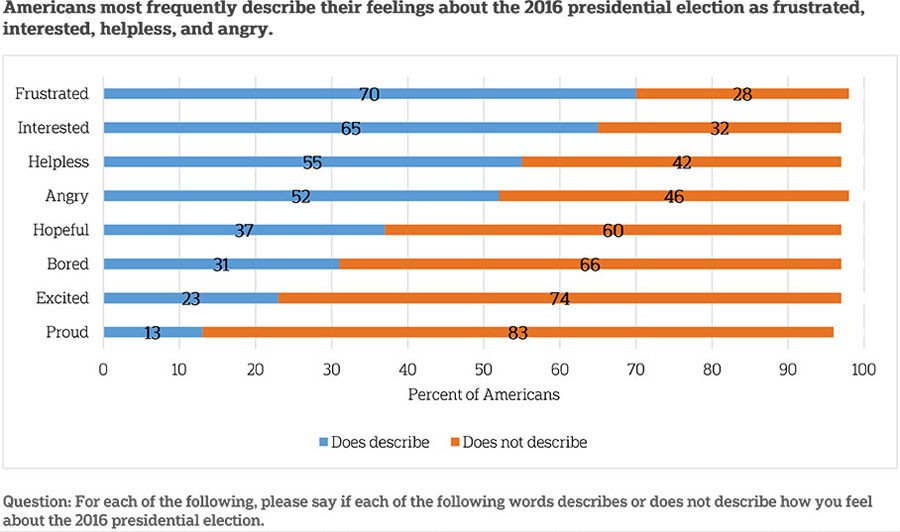 Just 13 percent say they are proud about the election, 37 percent feel hopeful, and three in 10 say they are already bored.
Only 13 percent of Americans say they think the two-party political system in the US works fairly smoothly, while 38 percent say it's seriously broken. An additional 49 percent believe the system has real problems.
A mere 10 percent say they have a great deal of confidence in the US political system overall, with 38 percent saying they have hardly any trust left.
READ MORE: US society at crossroads ahead of 2016 presidential elections
Few Americans have much confidence in any of the branches of the US government either. Just fifteen percent say they have a lot of confidence in the executive branch, while 50 percent have "some" and 33 percent have hardly any.
Only four percent say they still have much faith in the Washington D.C.-based Congress, as opposed to 46 percent, who have hardly any trust left. A modest 24 percent have a lot of confidence in the Supreme Court, and 17 percent have hardly any.
By striking contrast, a staggering 56 percent of Americans say they have a great deal of confidence in the military.
The AP-NORC poll of 1,060 adults was conducted in mid-May, and is designed to be representative of the US population. Respondents were first selected randomly using address-based sampling methods, and later interviewed online or by phone, with the margin of sampling error for all respondents said to be plus or minus 4.1 percentage points.
Another poll, conducted late last month, showed that more than half of US voters believe the system to pick their president is "rigged." The poll, conducted by Reuters and Ipsos, found that some 51 percent of voters believe the primary system is rigged against certain candidates. Over 70 percent said they would prefer to pick their party's presidential nominee with a direct vote, cutting out the use of delegates as intermediaries. The survey also found that at least 27 percent of likely voters do not understand how the primary process works, and 44 percent do not understand why delegates are involved at all.
You can share this story on social media: