'Soon we'll have democratic Syria': US volunteers battle for ISIS capital among YPG ranks (VIDEO)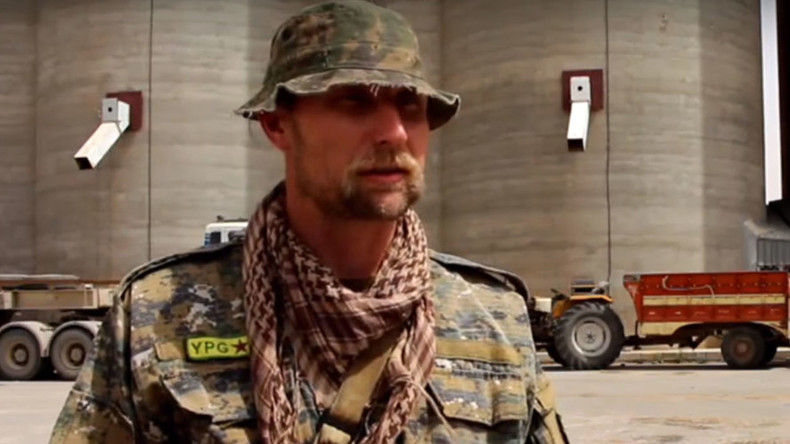 Besides US special forces and advisers, American volunteers have also been seen fighting alongside the Kurdish militia in Syria. One US vigilante just outside Islamic State-controlled Raqqa said they are there to bring democracy to the war-torn country.
As the US-backed coalition of Kurdish-led forces continue to recapture settlements in the vicinity of Raqqa from Islamic State (IS, formerly ISIS/ISIL) terrorists, one American fighter from California says that he left his home to join the People's Defense Units (YPG) to bring freedom to the war-torn country and destroy the global terrorist threat.
"I came to volunteer, to help the YPG help fight Daesh, because I believe that Daesh is a menace to the whole world, not just in Syria," says the man in footage obtained by Ruptly in Syria. "I thought that the YPG represents democracy in the Middle East, which is the key to having a thriving society."
Claiming on video that their fighting unit is some 13 miles from Raqqa, the vigilante says that they are nearing the "beginning of the end of Daesh."
The American fighter says that his being in the warzone is a way to show to the Kurds that the world cares about their struggle against the terrorists.
"Soon we will have a free Syria and a democratic Syria. And I am honored and proud to take part in it. I love the YPG, I just love my YPG brothers, my YPG sisters. They are some of the finest people I have ever met," he says.
It has long been reported, starting in the fall of 2014, that an international volunteer fighting force has been trickling into Syria to fight alongside Syrian and Iraqi Kurds to liberate countries from IS dominance. The Ruptly footage further confirms reports of Americans being among foreign volunteers fighting alongside the Syrian Democratic Forces (SDF) soldiers.
While the US insists it has only 300 personnel on the ground in Syria to train and advise the Kurds and the SDF, photos of US soldiers wearing Kurdish People's Protection Units (YPG) insignia emerged on Wednesday in the northern Syrian village of Fatisah, just north of Raqqa.
Following the exposure, the Pentagon denied that American troops are engaged in direct combat, and has ordered their limited contingent of the so-called advisers to remove YPG patches. However, Michael Maloof, former Pentagon officer, told RT, that US soldiers have likely taken part in combat.
"There is no question about it – we have troops on the ground there, special forces. I've talked to Syrian Kurds here in Washington – they agree that they are not only there assisting – they are actually engaged," Maloof pointed out.
The picture scandal infuriated Turkey, which is conducting a military operation against the Kurdish militias in their own country as well as in Syria and Iraq.
"This is not what was promised to us," Turkish President Recep Tayyip Erdoğan said on Saturday. "I am someone who believes that politics should be conducted honestly. Therefore, our allies, those who are with us in NATO, cannot and should not send their own soldiers to Syria, with insignias of the YPG."
Member of the Syrian parliament Omar Ose told Sputnik on Sunday that Washington is only aiding the SDF to liberate Raqqa to have a stronger position during the ongoing Geneva talks on political settlement in Syria, as the next round is expected to take place before July.
"The aim of the United States is [to establish] control over Raqqa and to use this success for political purposes at the negotiations in Geneva to resist Russia's project," Ose said, adding however that Ankara would not allow further expansion of Kurdish control over Raqqa. "If the United States secures a victory in Raqqa via the YPG fighters, then Kurds will be sold to the Turkish authorities, who search any pretext [to weaken Kurds]. Kurdish cantons in Qamishli, Kobani and Afrin irritate them [Turks], and they will not allow any new [Kurdish] entity to be created."