Plane crash in Hudson River, search and rescue ongoing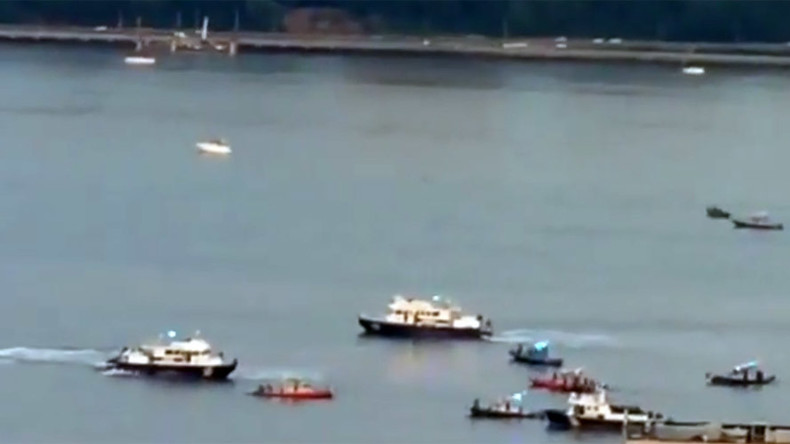 A small plane crashed into New York's Hudson River, with multiple witnesses saying that it was submerged under the water. New York emergency crews are at the scene. Coast Guard and NYPD harbor units are searching the river, according to WNBC.
The pilot remains "unaccounted for," officials told reporters during a Friday night press conference.
The New Jersey State Police recanted a previous report that one survivor had been in the water. The person turned out to be a swimmer unrelated to the crash. Meanwhile a NJSP helicopter and boats as well as two divers continue to search for any possible survivors.
Diners at Waterside Restaurant in North Bergen, New Jersey, told WNBC they saw a small World War II-type plane appear to start landing, then go into the water nose first. The FAA confirmed it was a vintage WWII P-47 Thunderbolt, according to WNBC.
Two divers began search and rescue operations underwater.
A bystander also jumped in to try to help:
Gary Lewi, spokesman for the American Airpower Museum, told WNBC the plane was on a photo flight with at least two other planes along the river when there was some kind of mechanical issue, and the pilot decided to ditch on the Hudson.
Witnesses told NBC News they saw the pilot try to get out but he appeared to flounder in the water and then sank with the plane. Other witness described smoke as the plane hit the water.
It is currently Fleet Week in New York, and several onlookers initially thought it was part of an air show.
Hackensack Daily reported the search and rescue responders also included members of the the Palisades Interstate Parkway police, Hudson County Marine Unit, Jersey City police as well as the Coast Guard.
Three people were aboard the plane, an FDNY source said, according to the New York Daily News.