Boeing to miss deadline on KC-46 tanker, no delivery till 2018
Published time: 27 May, 2016 21:19
Edited time: 27 May, 2016 21:19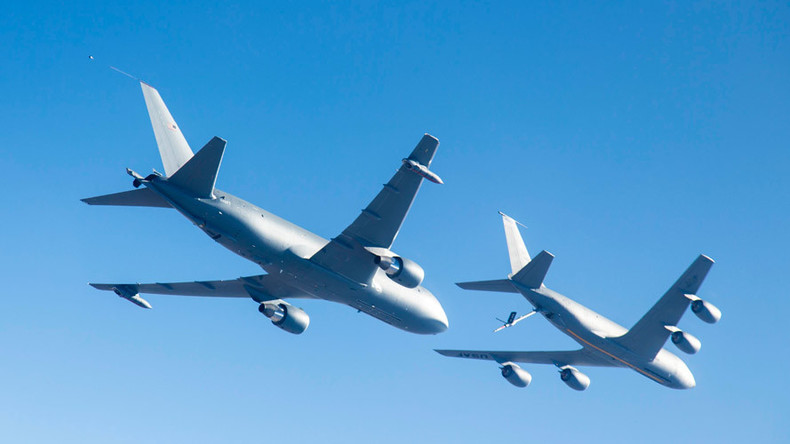 Defense contractor Boeing announced that complications with the KC-46 tanker's refueling system will mean a delay in the company's contract with the US Air Force. The adjustment will mean 18 new tankers will be delivered to the Air Force five months late.
The KC-46 Pegasus is the military version of Boeing's 767 jet airliner. It is intended to replace the KC-135 Stratotanker, also made by Boeing, which has been in service since 1957.
Despite the previous delays in the program, Boeing remained committed to meeting the August 2017 deadline. On Friday, however, the company cited "ongoing complexities associated with qualification and certification" of the aircraft's refueling systems as the reason the first tanker will not reach the Air Force by March 2017. The full delivery of 18 tankers will not occur until January 2018, Boeing said in a statement.
Brigadier General Duke Richardson, program executive officer for tankers with the Air Force, said in a statement that "technical challenges with boom design, and issues with certification of the centerline drogue system and wing air refueling pods have driven delays to low rate production approval and initial aircraft deliveries."
The announcement comes following a Schedule Risk Assessment Review of the program by the Air Force and Boeing.
"Throughout KC-46 development, the Air Force remained cautiously optimistic that Boeing would quickly address these issues and meet the original goal," Richardson said. "However, we understand that no major procurement program is without challenges and the Air Force remains committed to ensuring all aircraft are delivered as technically required."
Even when the tankers are delivered, they will not be fully functional, as one of the two refueling capabilities of the KC-46 — the wing-aerial refueling pod, or WARP — is scheduled for delivery separately, in October 2018.
Altus Air Force Base in Oklahoma and McConnell Air Force Base in Kansas are planned to be the first USAF posts to receive the new KC-46 tankers.
The delay will not translate to increased costs to the government, Richardson said.
It will, however, affect the Air Force's decision to approve production of a new tanker, the "Milestone C." That decision will now move from June 2016 to August 2016 "to allow Boeing additional time to fix the loads issue and accomplish the remaining aerial refueling demonstrations" with other aircraft, the Air Force said.
Cost overruns led Boeing to take a $243 million pre-tax write-off on the KC-46 program, according to the Seattle Times. Previous delays also triggered write-offs in 2014 and 2015 that totaled $1.3 billion.