'Game on': Trump and Bernie may be up for a (real) debate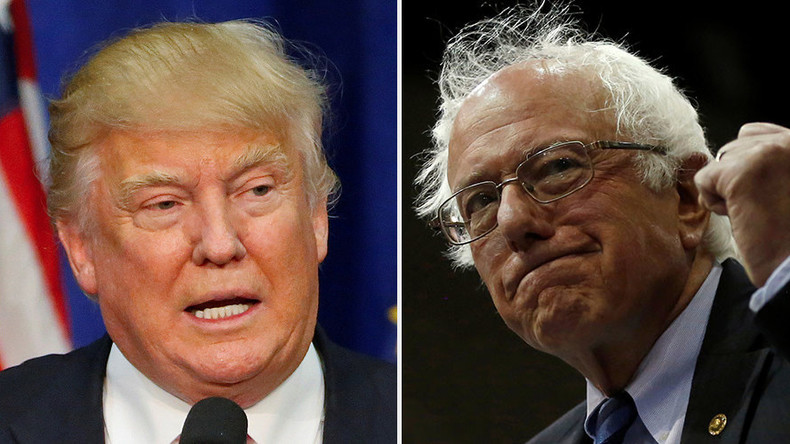 Though the primary season is not yet finished, Democratic contender Bernie Sanders has challenged the Republican nominee Donald Trump to a one-on-one debate in California. Democratic front-runner Hillary Clinton has refused to debate Sanders.
In a Wednesday appearance on ABC's "Jimmy Kimmel Live," Trump was asked if he would consider holding a debate with Sanders, reading the challenge that was written in a letter by the Democratic candidate.
"Hillary Clinton backed out of an agreement to debate me in California before the June 7th primary," the letter read. "Are you prepared to debate the major issues facing our largest state and the country prior to the California primary?"
The New York tycoon accepted the invitation without hesitation.
"Yes, I am. How much is he going to pay me?" Donald Trump said. "Because if I debated him, we would have such high ratings and I think I should take that money and give it to some worthy charity. If he paid a nice sum for a charity I would love to do that."
Trump explained that he wanted a donation to charity because the debates where he was present on Fox and CNN had the highest cable ratings in history.
Shortly after Trump's interview, Sanders posted a Tweet indicating that the two candidates were on the same page.
Game on. I look forward to debating Donald Trump in California before the June 7 primary.

— Bernie Sanders (@BernieSanders) May 26, 2016
Sanders' invitation and response were a dig at Hillary Clinton's refusal to debate the self-described democratic socialist, even though the two Democrats had previously agreed to one more debate that would take place in May.
READ MORE: Clinton declines to debate Sanders ahead of California primary
In the interview, Trump also expressed sympathy for the Vermont senator's electoral plight.
"What I do like about Bernie is that, when he loses—because the system is rigged against him, totally, just the way it was rigged against me, I mean, the system is rigged – and if I didn't win by massive landslides every state there was no chance I could have won," Trump said before being offered the debate challenge. "[Bernie] is sorta having the same thing… [Hillary] has superdelegates that were just handed to her."
Though his commiseration with the Vermont senator has been earnestly expressed before, CBS News was later told by sources that Trump was "kidding" about accepting the invitation.
At a Thursday afternoon press conference, Trump said that he would in fact debate Sanders. He stuck to his comments about needing to be paid, though, clarifying to reporters that his price would be a $10 to $15 million donation to charity.
The fate of the Sanders-Trump debate, therefore, remains up in the air. Sanders himself is set to appear on Kimmel's show Thursday night.