Grandparents charged after children, aged 4 and 5, accidentally shoot selves in Detroit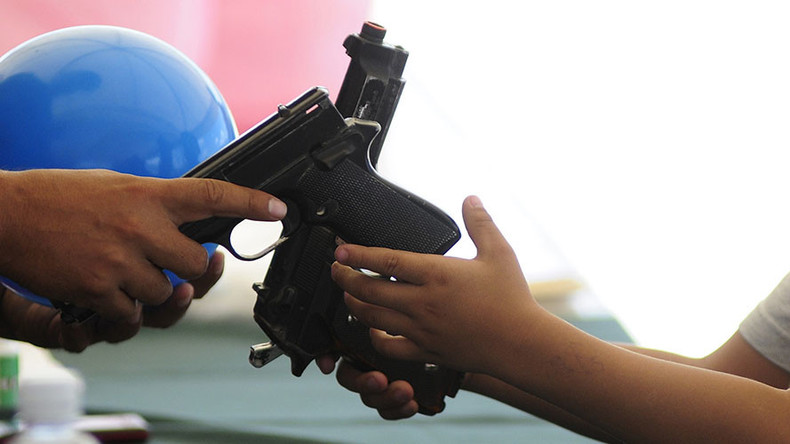 The grandparents of a 5-year-old who fatally shot herself and a great-grandfather and mother of a 4-year-old who accidentally shot himself are facing charges from manslaughter to child abuse.
Prosecutors recognized that Detroit has "huge issues" with kids and guns.
"Everybody in this universe knows that Detroit has an issue," said Wayne County Prosecutor Kym Worthy at a Wednesday news conference, according to the Detroit Free Press. "Detroit and Wayne County have huge issues with children dying from firearm use. And no matter how much we sugarcoat it or say it's not so or try to cover it up with stats about crime going down, it still remains an issue that we have to address."
The charges occurred after a spree of shootings in recent months that left Detroit children dead or injured, according to Worthy. She said in Wayne County alone in the last 17 months that eight children have killed or injured themselves or others with unsecured firearms.
"This is a public health issue and not just a crime issue," Worthy said. "As I've said often these guns are legally owned. They're often unsecured and most of the time, children know where they are even if parents think that they don't. And all of this is totally, completely and absolutely preventable."
Frederick Davis and Patricia McNeal were charged in connection with the May 11 fatal shooting of their granddaughter, 5-year old Mariah Davis.
Davis and McNeal, both 65, were babysitting Mariah and her brother, along with a neighbor's child, when Mariah went into her grandparents' bedroom around midnight and retrieved a handgun from under a pillow. She took the gun into another room and shot herself in the neck, according to prosecutors. Davis found her on the bed, retrieved the gun and called 911.
Detroit police said the other two children, a 1-year old and a 3-year old, were also upstairs at the time of the shooting but were unharmed. The grandmother was cooking downstairs at the time.
Davis and McNeal have been charged with one count each of involuntary manslaughter, three counts of second-degree child abuse and one count each of felony firearm. Davis was also charged with a felony in possession of a firearm. They will be arraigned on Thursday.
In a separate incident, an 80-year-old great grandfather, Joseph Williams, and 30-year-old mother, Andrea Drewery, have been charged after a 4-year-old boy shot himself in November 2015.
Drewery's son found a handgun that belonged to his great-grandfather and shot himself in the hand. He was treated at a local hospital and survived his injury. Prosecutor Worthy said the mother and great-grandfather allegedly knew the unsecured handgun was in the home and accessible to the boy and his younger brother.
The pair face charges of second-degree child abuse and felony firearm possession and will also also be arraigned on Thursday.
"How many more deaths do we need before strong, swift action is taken?" asked Worthy.
Worthy said she is calling for stricter legislation aimed at gun owners who leave their firearms around a child who subsequently injures or kills themselves or others. She is also planning on visiting the heads of hospitals to see how pediatricians can educate parents about gun ownership.
"Make sure they're (guns) unloaded and secured and please don't think that your child doesn't know you have a gun and number two, doesn't know where it is," Worthy said, according to Patch. "It's just about being responsible."