Brother of 'Guantanamo Diary' author denied entry to US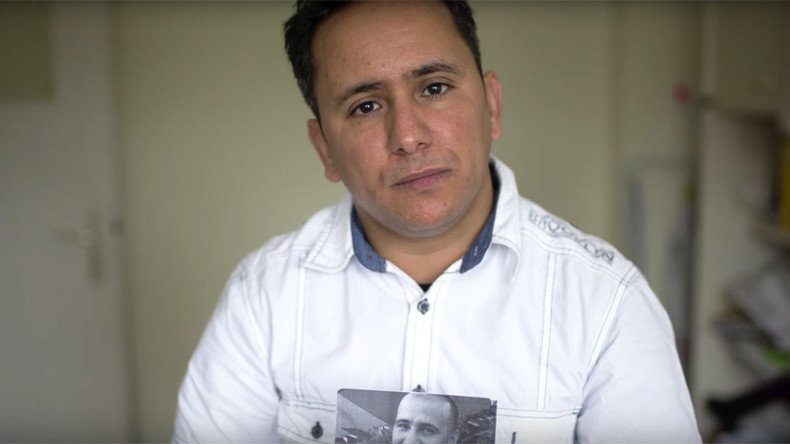 US authorities detained, interrogated and sent back a German citizen flying in to campaign for the release of his brother – author of the best-selling "Guantanamo Diary," who has been imprisoned and tortured at the US camp since 2002.
Mohamedou Ould Slahi's memoir, heavily redacted by government censors, was published in 2015 and quickly became a best-seller. The Mauritanian native was arrested in 2001 and rendered to Jordan for interrogation by the CIA. He was transferred to Guantanamo Bay the following year.
His younger brother Yahdih, a German citizen, has campaigned for Mohamedou's release for years. Yahdih was supposed to attend a number of events in the US this week, seeking to persuade Guantanamo's Periodic Review Board to set Mohamedou free at the June 2 hearing.
Because relentlessly punishing Slahi isn't enough, USG now punishes family for raising awareness of June 2 hearing: https://t.co/Hf2AEZl2bR

— Sarah Kay (@K_interarma) May 24, 2016
When Yahdih Slahi arrived at the John F. Kennedy airport in New York on Saturday, however, he was detained by US Customs and Border Patrol (CBP) agents, questioned for hours, and sent back to Germany the following day, The Intercept reported.
"He was asked questions about his family, his brother, and what he knew about why his brother was in Guantánamo," said Hina Shamsi of the American Civil Liberties Union. "It was a harrowing, stressful, and exhausting experience."
Yahdih Slahi is a German citizen who lives in Düsseldorf, and would have been able to enter the US under the visa waiver program that Germany participates in. The CBP gave no explanation for denying Slahi entry.
In his memoir, Mohamedou Slahi described being held in isolation and subjected to beatings, extreme cold, sleep deprivation, sexual abuse, a simulated kidnapping, and a simulated execution. At one point, his captors tried to trick him by showing him a forged letter from his mother, Yahdih recounted in 2015. The ploy failed because the forgery misspelled Slahi's name – and because, unbeknownst to his jailers, Slahi's mother was illiterate.
Mohamedou Slahi admits that he fought in Afghanistan in the early 1990s with what became Al-Qaeda– when the organization was backed by the US in its struggle against the socialist government in Kabul. While he had nothing to do with Al-Qaeda since 1992, Slahi did stay in touch with his cousin and former brother-in-law, Mahfouz Ould al-Walid, who served as a lieutenant to Osama Bin Laden.
Slahi was never charged with any crime, but the 2010 decision to release him has been held up by government appeals.
"The judge said there was no evidence in 2010 to hold him. There's certainly not evidence now. The Chief Prosecutor said when he resigned in 2007, that there was no evidence then," Slahi's attorney Nancy Hollander told RT in January 2015.
Slahi's family and friends hope the Periodic Review Board will recommend his release at the June 2 hearing. The inter-agency panel ruled on Monday to set free an Afghan man, known only as Obaidullah, who was held at Guantanamo for 14 years.
It took a decade of fighting with the government for the Guantanamo Diary, written in 2005, to see the light of day. Slahi is the first Guantanamo prisoner to publish a memoir while still at the camp. He has not been allowed to receive a copy of his book.
You can share this story on social media: