Feds, PETA find animals frozen alive, gassed, sick at pet dealer (VIDEO)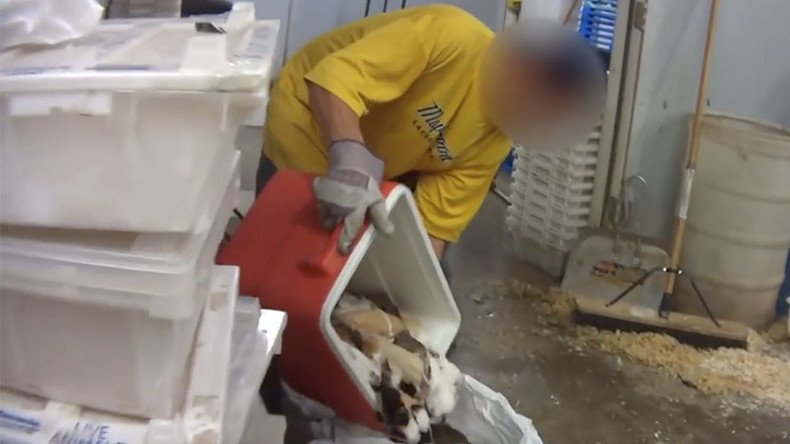 Federal investigators found at least 117 violations of 14 federal laws at a Pennsylvania pet dealer, where animals lived in filthy, cramped conditions and were left to freeze or suffer from sickness. The investigation was prompted by an undercover PETA video.
Animals were consigned to plastic bins, stacked in units like filing cabinet drawers, dumped into beer coolers and gassed or frozen alive, according to the images filmed by People for the Ethical Treatment of Animals (PETA) agents.
Cats roamed freely and killed at will.
PETA said of the animals which had been gassed, that "their screams could be heard across the room."
The undercover two-minute video from PETA, which prompted an investigation by the US Department of Agriculture, was taken at Holmes Farm, a pet supplier.
USDA inspectors spent several days at Holmes Farm, finding decomposing animals in bins with live animals and an ammonia stench so strong that it burned federal agents' eyes and noses. Holmes employees told USDA they learned how to euthanized animals from the internet.
The department's Animal and Plant Health Inspection Service could issue a warning, fine or suspend or revoke the dealer's license. Holmes deals in small animals like hamsters, rabbits and gerbils, supplying hundreds of pet stores including PetSmart, Petco and Pet Supplies Plus.
The USDA, in its interim report released last week, found 117 violations of numerous federal animal-care laws and 36 animals in need of veterinary treatment for symptoms ranging from hair loss to eye abnormalities to lethargy. The investigation remains open.
There has been some fallout with pet sellers. Petco announced in January it had dropped Holmes as a supplier, as did Pet Supplies Plus, but PetSmart refused to tell the Associated Press whether it is still getting animals from Holmes.
"As a standard practice, we do not comment on the status of relationships with our vendors," Michelle Friedman, PetSmart's vice president of corporate communications, said in a statement. "Nothing is more important to us than the health and safety of pets, and we take any allegation of mistreatment very seriously. We immediately review and thoroughly investigate, taking appropriate steps and corrective actions as needed to ensure our high standards of pet care continue to be met."
PETA is calling on PetSmart to end animal sales.
"And at the very least, certainly not supply animals from suppliers that have been found to violate a single law, let alone 14 different federal ones," Dan Paden, PETA's associate director of evidence analysis told Public News Service.
PETA has a petition, which has already garnered over 125,000 signatures seeking the end of animal sales.
PetSmart, with corporate headquarters in Phoenix, Arizona, employs about 53,000 people at more than 1,400 stores in North America.
You can share this story on social media: