'I will not let you down': Trump promises NRA he'll end gun-free zones, attacks Clinton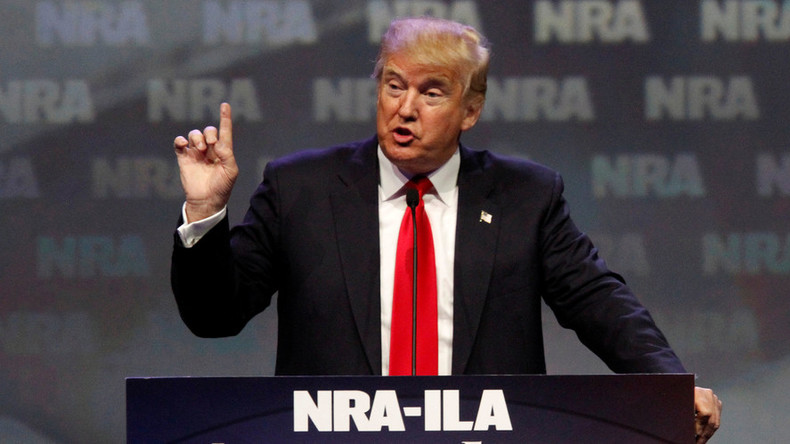 After receiving the National Rifle Association's endorsement, presumptive Republican presidential nominee Donald Trump told the gun advocacy group that bearing arms "is the most basic human right of all, and Hillary Clinton wants to strip it away."
Some were surprised that the NRA, the nation's top lobbying organization promoting gun rights, would endorse Trump given his past views on the subject, but both its members and leaders received the recent Second Amendment hardliner enthusiastically at a convention of the NRA's Institute for Legislative Action on Friday.
"We're getting rid of gun free zones, OK? I can tell you. We're getting rid of them," Trump announced to applause.
While the promise may have been pleasing to the ears in the crowd, it has been mocked by others who point out that Trump owns hotels that restrict guns on their premises, or that the NRA convention itself is effectively a gun free zone. Trump presumably was referring to government-mandated gun free zones, such as the Fort Hood military base where mass shootings occurred in 2009 and 2014, or the facility attacked in San Bernardino where 14 people were killed.
Referring to the San Bernardino massacre, Trump said, "If we had guns on the other side, it wouldn't have been that way. I would have –" and then made a quick-draw gesture from his pocket with his hand in the form of a gun and said, "boom."
Trump opened his speech in congenial style, calling the NRA's endorsement "a fantastic honor."
"I've been a member for a long time, and my boys are members, and they're much better shooters than I am, I'll tell ya. They know more about guns than any – I don't know, there might be two or three people in this room, but believe it or not, not many."
However, Trump was anything but gracious when it came to his likely general election opponent, former Secretary of State Hillary Clinton.
Self-defense "is the most basic human right of all," Trump said, "and Hillary Clinton wants to strip it away."
Using the opportunity to highlight the importance of who, as the next president, will get to select Supreme Court nominees, Trump said, "If she gets to appoint her judges, she will abolish the Second Amendment."
Trump also attempted to undermine Clinton's "woman card," saying she is telling "every woman that she doesn't have the right to defend herself," and that it "is so unfair and that is so egregious and I'll tell you what, my poll numbers with women are starting to go up."
Trump also called her hypocritical for using armed guards. Both candidates have Secret Service protection.
The hypocrisy attack flies both ways, however, as Trump was embracing gun control initiatives as recently as December 17, 2012.
President Obama spoke for me and every American in his remarks in #Newtown Connecticut.

— Donald J. Trump (@realDonaldTrump) December 17, 2012
"President Obama spoke for me and every American in his remarks in #Newtown Connecticut," Trump tweeted in response to an address Obama made in the wake of the Sandy Hook Elementary School shooting in Newtown that killed 20 children and six adults.
In his book The America We Deserve that came out in 2000, Trump wrote, "I generally oppose gun control, but I support the ban on assault weapons and I also support a slightly longer waiting period to purchase a gun," ABC News reported.
Chris Cox, executive director of the NRA's Institute for Legislative Action, and Wayne LaPierre, the executive vice president of the NRA, both spoke to the convention prior to Trump, encouraging their members and all Republicans to unite.
In the past, the NRA has refrained from endorsing presidential candidates with weak gun rights records, taking a pass on Republicans Bob Dole in 1996 and George H.W. Bush in 1992. In 2000, the NRA also declined to formally endorse George W. Bush, but that was merely for public appearances. The Bush team feared a negative backlash if the NRA played too prominently in the campaign, so rather than endorsing Bush Jr., the gun group spent millions on ads attacking Al Gore.