Shots reported near the White House, area on lockdown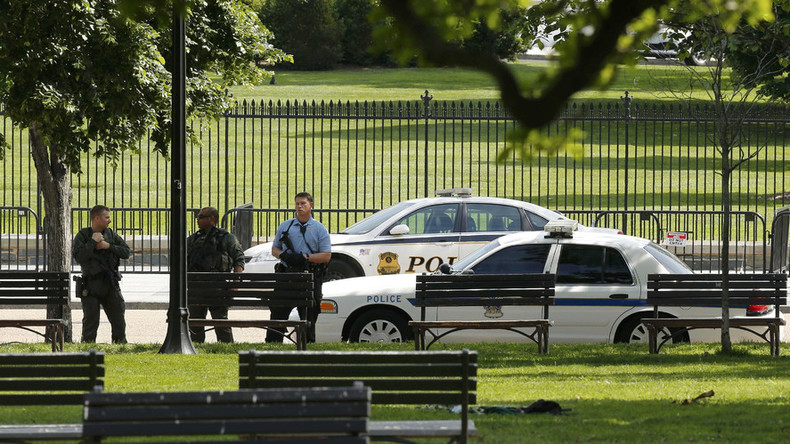 The White House is on lockdown after shots appear to have been fired in the area.
The suspect approached a Secret Service checkpoint at 17th and E Streets and brandished a weapon. Uniformed agents "gave numerous verbal commands" to "stop and drop the firearm," the Secret Service said in a statement. When he "failed to comply," he was shot once by an agent and taken into custody.
The press corps has been told to shelter in place, then were moved to the basement after reports of shots fired at the corner of West Executive and Pennsylvania avenues.
The location is inside the pedestrian area between the West Wing and the Eisenhower Executive Office Building.
President Barack Obama is not in the executive mansion, although he was earlier in the day, according to the White House schedule. He is reportedly golfing at Joint Base Andrews in Maryland.
The White House complex, which includes the executive mansion, the Eisenhower Executive Office Building and several other buildings, is 18 acres. The 7-acre Lafayette Square lies directly north, while the 52-acre Ellipse is directly to the south.
Vice President Joe Biden was on the property and was secured, according to law enforcement.
The shooting involved a uniformed Secret Service, according to Roll Call's Adriel Bettelheim.
One person has been transported to a local hospital with critical injuries, DC Fire and EMS tweeted. That shooting happened at 17th and E Streets NW.
A suspect is believed to have fired onto the White House complex grounds and is down and in custody, CNN photographer Peter Morris reported.
The gunman is a white male, according to NBC's Pete Williams.
The FBI's Capital Response Team is on the way to the White House, Fox News' Chad Pergram tweeted.
Police are searching a car found near the site of the shooting that may be related, Mark Meredith tweeted.
The suspect never entered the White House complex, and no one else was injured during the incident, the Secret Service said.