Cancer preventable: Healthy habits can reduce deaths, study finds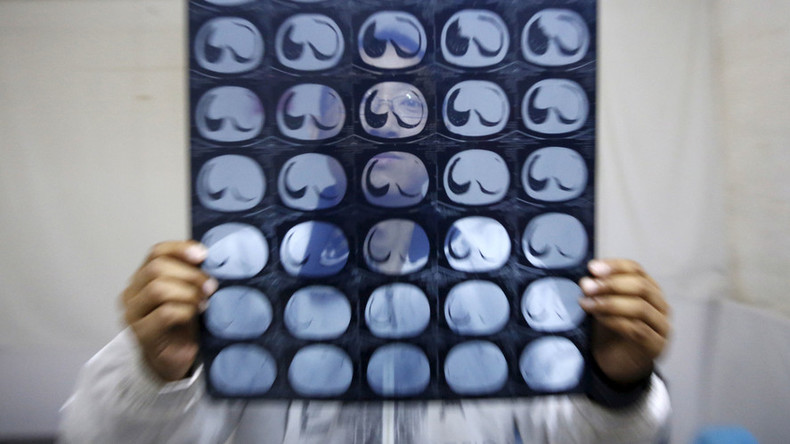 Cancer can be prevented through lifestyle changes, Harvard University scientists argue, having found that not smoking, drinking in moderation, maintaining healthy body weight, and exercising can prevent more than half of all cancer deaths.
"Extrapolating the findings to the US population at large, they estimated that, for women, 41 percent of cancer cases and 59 percent of cancer deaths were potentially preventable. Among the men, they estimated that 63 percent of cancer cases and 67 percent of deaths were preventable," Harvard University T. H. Chan School of Public Health said in a released statement.
For data, a pair of Harvard researchers used large ongoing studies that followed the health and lifestyle of tens of thousands of female nurses and male health professionals. They divided the people into two-groups: a low-risk group and high-risk group.

The low riskers did not smoke, drank no more than one drink per day for women, or two for men, maintained a healthy body mass index between 18.5 and 27.5, and got two-and-a-half hours of moderate exercise per week, or half as much in vigorous exercise.
They found that healthy behaviors could have a large effect on preventing certain cancers in particular, as well as more than a fifth of colon cancer, pancreatic cancer, and kidney cancer cases.

"We should not ignore the knowledge we already learned over the past decade, or the past 100 years," Mingyang Song, lead author and research fellow in the Department of Nutrition, told the Washington Post, adding, "We should use this knowledge to move the policy forward and also make the public aware that we already have this knowledge and we can utilize this knowledge, to improve the current cancer prevention effort."
The new research was conducted in response to a 2015 study which suggested that random mutations during stem cell divisions are a major contributor to human cancer.

There are caveats to the new study, however. It only studied Caucasians, and the high risk-group in the study was healthier than the general US population, so the number may be an overestimate. Song maintains, however, that it is a good approximation.

"A substantial cancer burden may be prevented through lifestyle modification. Primary prevention should remain a priority for cancer control," the study concluded.
The study's senior author was Edward Giovannucci, a professor of nutrition and epidemiology at the Harvard Chan School.

Cancer is the second leading cause of death in the US, with 1.6 million new cancer cases and 600,000 cancer deaths projected in 2016.

The study stated that the "cancer mortality rate has decreased from 199 to 163 per 100 000 between 1969 and 2013. However, the decline (17.9%) was modest compared with the dramatic decrease in heart disease mortality (67.5%) during the same period, highlighting the need for further efforts in cancer prevention and treatment."

The fight against cancer in the US has been waged using two approaches. One is to study how cancer works and invent new ways to prevent it from developing. The other is to try to treat the disease with powerful drugs to prolong life.

"There sort of are two worlds, one world focused on therapy and another world focused on prevention, and I do think that two worlds are coming together now," Tyler Jacks, director of the Koch Institute for Integrative Cancer Research at the Massachusetts Institute of Technology, told the Washington Post.
"There's room for both. Let's not ignore the power of therapy and it applications for people who have cancer… We simply cannot ignore that," Jacks said. "But why can't we also include, as we think about cancer control more broadly, the lifestyle issues, the human behavior issues, that can lower overall risk."

The study entitled Preventable Incidence and Mortality of Carcinoma Associated with Lifestyle Factors among White Adults in the United States was published in the journal JAMA Oncology.