90% of Native Americans say Redskins 'is not offensive' – poll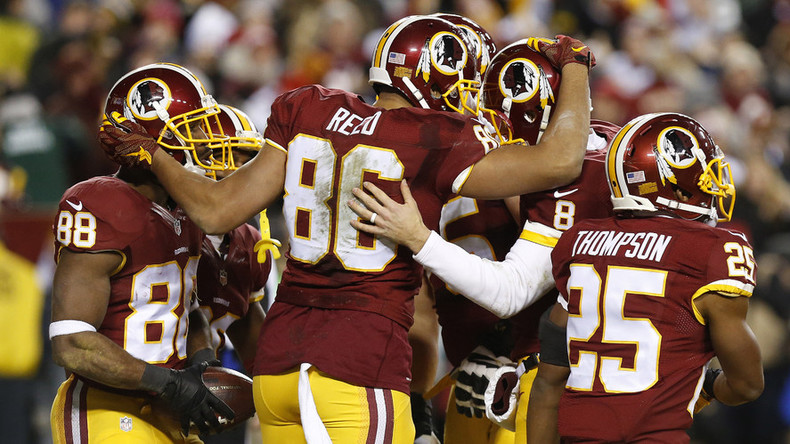 A new poll shows that 90 percent of Native Americans don't find the name of Washington, DC's football team, the "Redskins," offensive, with an overwhelming majority saying they wouldn't feel put down if a non-Native American called them that.
The Washington Post asked 504 Native Americans across the county to see if they took offence at the racially charged name of the capital's football team. Over half of those polled considered themselves fans of professional football.
Activists have been demanding that the Redskins change their name, claiming it is derogatory. However, the recent poll reveals that 90 percent of Native Americans do not find the term offensive in any way. In addition, while 43 percent of those polled said they had heard about the ongoing debate, the majority – 56 percent – didn't know "too much" about it, or even less.
At the same time, 73 percent said the word "Redskins" does not sound offensive at all, and even if a non-Native American person called them this, 80 percent said they would not feel put down.
When asked if they found the use of Native American imagery in sports offensive, 91 percent said it "does not bother" them.
"I'm proud of being Native American and of the Redskins," Barbara Bruce, a Chippewa teacher who has lived on a North Dakota reservation most of her life, told the Pos
There has been previous polling on the matter. The ESPN sports television network conducted a nationwide poll in 2014 which found that 23 percent of respondents wanted the name "Redskins" to be retired from use, because it was offensive. A year earlier, in 2013, a similar poll conducted by the Washington Post found a slightly higher percentage of DC-area residents, 28 percent, wanted to end the use of the name.
This last week, the Navajo Nation, one the largest tribes in the US, failed in a bid to protect its name, losing on two counts in a multi-million dollar lawsuit initiated against the clothing retailer Urban Outfitters in 2012.
The tribe wanted all of the profits generated from Navajo-themed sales, as well as $1,000 per day per item, or three times the profit generated by the marketing and retail of products using their name.
However, the retailer claimed that the name had been used in items such as necklaces, jackets, and underwear for years.