Hundreds of natural gas leaks identified in major US cities – study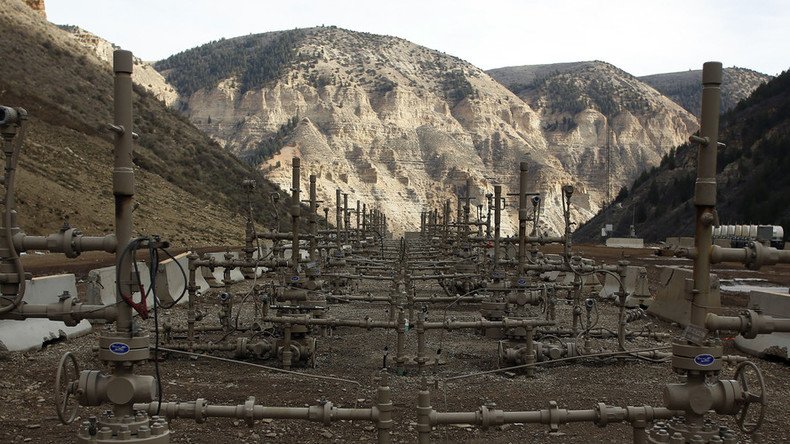 From Boston to Dallas, hundreds of methane leaks were detected by the Environmental Defense Fund (EDF) during a 30-month pilot research project on the gas and its contribution to greenhouse emissions.
EDF released its latest map for Dallas, Texas, on Thursday, which showed the locations of hundreds of underground gas leaks.
For research data, EDF partnered with Google Earth Outreach and Atmos Energy, which operates local gas pipelines in Dallas. By placing gas sensors on cars that provide mapping for Google Street View, EDF gathered data for more than a year. The testing was conducted in 17 Dallas neighborhoods, though not citywide, covering 700 miles between January and February of 2015.
"Smaller or more remote leaks can go undetected or unrepaired for long periods," said EDF in a statement.
The Dallas map shows dots of yellow, orange and red. Yellow dots mean the methane leak is low, orange indicates a medium leak, and red dots show large leaks.
While such leaks don't pose immediate health hazards, the emissions are not good for the environment. Methane is 84 percent more potent than carbon dioxide and makes up about 25 percent of all emissions. Apart from the environmental destruction, there is a cost to residents.
"This is absolutely not a safety issue," Jennifer Altieri, an Atmos spokeswoman told the Dallas Morning News. "We really don't want to scare the public."
The company said it has invested in a capital project to the tune of more than $1 billion a year, over 80 percent of which is directed toward improving the safety and reliability of its system, while reducing methane emissions. Atmos is planning to replace all of its cast iron and bare steel pipes by 2021. Those materials make up about 13 percent of the gas mains and are prone to leaking. About half the company's mains are more than 50 years old.
Altieri said the company traced the paths of the Google cars to confirm the readings and make sure major leaks were repaired. She didn't know exactly how many leaks had been fixed as a result of the project's findings, but said it would have been a small number.
EDF said the sensors are "designed to find and measure leaks that wouldn't necessarily turn up or warrant repair based on safety concerns alone."
In 2012, the non-profit environmental group started a research project to gain a better understand of how much and from where methane escapes by looking at how much was emitted during oil and gas activities, especially during production, while taking into account the few regulations aimed at keeping air pollutants in check.
The program was developed with scientists from Colorado State University. Dallas is one of nine participating cities, which include Boston, Los Angeles, Chicago, and Jacksonville, Florida.
It was EDF that released infrared aerial footage showing a huge plume of methane gas leaking from the SoCal Gas Company's Porter Ranch site into the affluent San Fernando Valley community. The leak continued unabated for over two months, and its fumes made many residents sick, causing many to leave for temporary housing.
You can share this story on social media: