'Corrupting influence': LAPD chief sued by police union in disciplinary battle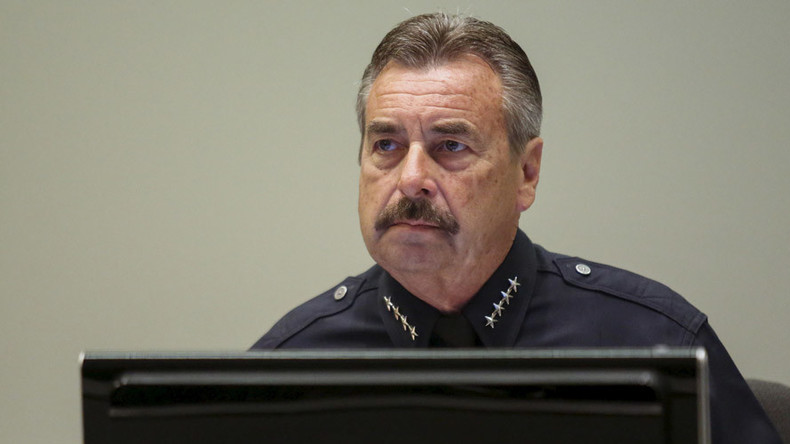 The chief of the Los Angeles Police Department is being sued by the union representing his officers over allegations that he exercises a "corrupting influence" over the force's disciplinary board.
Announced on Thursday, the federal lawsuit from the Los Angeles Police Protective League (LAPPL) – which represents some 9,000 officers – is concerned with the LAPD's Board of Rights, which determines what kind of discipline will be handed down to officers facing termination or long suspensions, the Los Angeles Times reported.
The three-person panel is staffed by two command officers from the LAPD and an independent civilian, as required by the City Charter. However, the LAPPL believes that LAPD Police Chief Charlie Beck exerts "a corrupting influence" on the board because the two command officers appointed to the panel "owe their livelihood" to the chief, CBS Los Angeles reported.
"The lawsuit details Chief Beck's command-staff exerting improper influence over police members of the BoR panel to uphold the chief's recommended discipline decision," the LAPPL said in a statement, according to Fox 11 News.
Since the officers owe their position to the police chief, the LAPPL essentially argues that the board cannot operate in the fair and impartial manner it is supposed to. As a result, the union contends that the board's structure is unconstitutional and violates the Fourteenth Amendment, which protects the due process rights of every American.
According to the union, the two command members have an incentive to agree with the disciplinary recommendations given by Beck. The union also said that four officers, whom it does not represent, recently filed lawsuits against Beck complaining about his "inappropriate influence" on the process.
Speaking with KNX radio, LAPPL President Craig Lally said the union wants to see civilians take over the roles currently performed by the command officers. "We think they're going to be much more fair," he said.
The union is also seeking a court order declaring the City Charter section regarding the Board of Rights to be unconstitutional.