Eco activists protest BLM's plans to cut down forests in Oregon, cry climate change risks
Published time: 18 May, 2016 03:06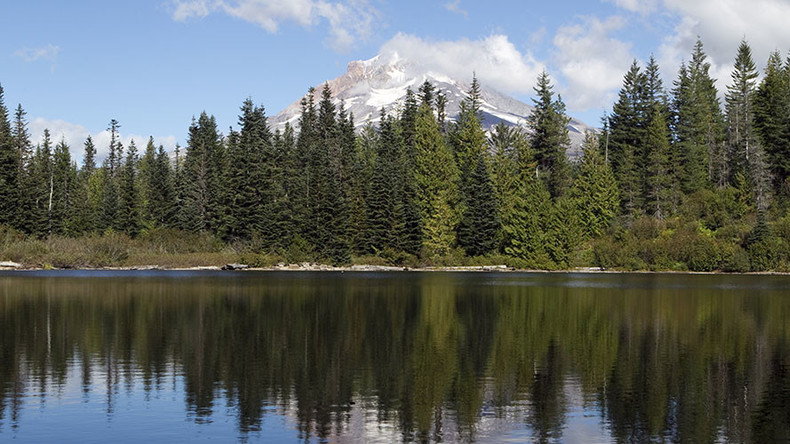 Eco activists have gone to court to challenge the US Bureau of Land Management's plans to increase wood harvesting in Oregon by 37 percent, saying it will lead to a build-up in carbon emissions and exacerbate climate change.
Twenty-two conservation and fishing groups are protesting a draft of a federal proposal from the Bureau of Land Management (BLM) that would see it take over management of 2.5 million acres of land in Western Oregon. Titled a Proposed Resource Management Plan (PRMP), it would allow logging to increase by more than a third and permit the harvesting of trees closer to streams.
"The PRMP would significantly increase destructive logging, road construction, and off-road vehicle use in forests administered by BLM in western Oregon," the groups said in a complaint filed on their behalf by San Francisco-based Earthjustice and the Western Environmental Law Center in Eugene on Monday.
The 173-page lawsuit objects to all portions of the 2,010-page proposal, which, among other measures, would increase the volume of timber harvested by about 75 million board feet, up to 278 million in total.
The groups argue that this "will boost carbon emissions and make the forest less resilient to climate change and other disturbances."
"Our concern there is that by essentially pulling out of a range-wide, regional plan, the BLM is leaving a huge hole in conservation and protection on those federal lands, and that may have all kinds of repercussions," Susan Brown, an attorney with the Western Environmental Law Center, said, according to Public News Service.
Besides leading to consequences related to climate change, the conservation groups argue that the BLM's new plan would reduce the so-called buffer zones between logging activities and streams in certain areas, putting water quality and wildlife at risk.
The complaint also outlined a number of violations, such as the BLM failing to disclose the effects of their proposed plan on the 1994 Northwest Forest Plan, applying radical changes without rational explanation, and failing to respond to comments, along with other misdeeds.
Among the protesters is also the Coquille Indian Tribe, which argue that the BLM's plan would "threaten the tribe's ability to manage its own forest, which is legally distinct from BLM's lands, but linked under federal law."
The tribe referred to more than 5,000 acres of BLM land that Congress granted them as part of its economic self-sufficiency plan.
Should the timber harvest lessen, the tribe could lose millions of dollars in revenue for services like health care, education, and elder care.
In an interview with AP, tribal chairman Brenda Meade said that the Coquille, which includes just over 1,000 members, is the only tribe in the United States required to manage its lands in accordance with the same standards as adjacent federal lands.
"We are very proud of how we manage our lands," she said.