Former St. Louis cop charged with murder over 2011 police shooting
Published time: 17 May, 2016 22:02
Edited time: 19 Dec, 2016 23:12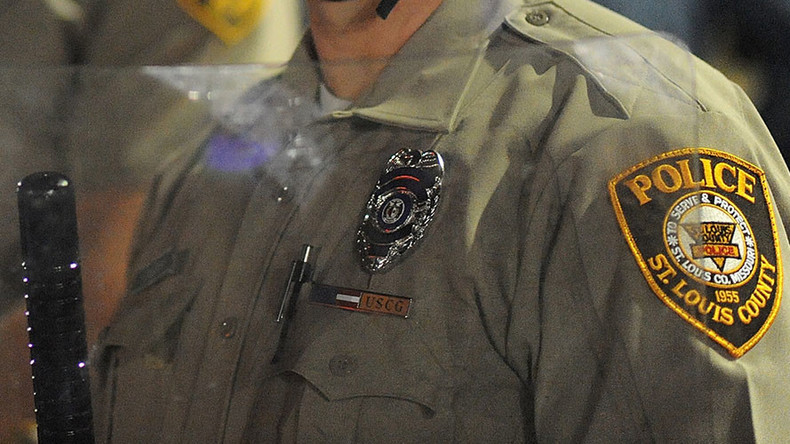 A former St. Louis Metropolitan Police Department officer has been charged with first-degree murder for a fatal police shooting that occurred more than four years ago.
The incident took place back on December 20, 2011, when Officer Jason Stockley, 35, was trying to chase down 24-year-old Anthony Lamar Smith, who was allegedly seen taking part in a drug deal.
When Stockley, who is white, and another officer tried to apprehend Smith, who was black, a high-speed chase unfolded at over 80 miles per hour, the St. Louis Circuit Attorney's Office said in a probable cause statement. While another officer was driving the police SUV, Stockley was allegedly heard saying from the passenger side that he was "going to kill this m****r f*****r, don't you know it."
When Smith slowed down his vehicle in preparation to stop, Stockley allegedly told the officer driving the police SUV to "hit him right now." The source(s) of the quotes have not been identified.
Officials said Stockley's partner slammed into Smith's car and then Stockley got out, approached the driver's side of Smith's vehicle, and then shot into it five times, striking Smith with each shot, the statement says. Smith died from his gunshot wounds
Officials said that a gun was recovered from Smith's car, but a lab analysis found only Stockley's DNA on the firearm.
Stockley resigned from the force in August 2013 after being suspended during the course of the ensuing investigation.
Although the case was first reviewed by the US Attorney's Office in 2012, given the evidence available at the time, charges were never filed.
Police have in-vehicle audio and video that was part of the initial investigation, but has not been released to the public, according to the St. Louis Post-Dispatch. Although the evidence was "very concerning," it had not been enough to warrant charges by itself at the time, Jennifer M. Joyce, Circuit Attorney for the city of St. Louis, said.
Now it would appear that they do have enough proof, although it's unclear what additional evidence has been uncovered to move the case forward.
"We believe we have the evidence we need to prove Mr. Stockley's guilt beyond a reasonable doubt in a court of law," Joyce said in a recent statement.
Now the case initially dubbed as "justifiable homicide" by detectives will head to a grand jury.
"I'm disappointed because I know what fine public servants the vast majority of police officers are, and this kind of conduct on the part of this former officer doesn't reflect the excellent work I see from them every day," Joyce said to the Post-Dispatch. "It's important that people understand that if you commit a crime, and we have the evidence to prove it, it doesn't matter to us what you do for a living. Our job is to hold people accountable if we have the evidence. And in this case, we do."
The Justice Department is also conducting its own review of the case, but has not released its findings.
Law enforcement in Missouri has been under intense scrutiny since 2014, when 18-year-old Michael Brown was shot dead by officers in the St. Louis suburb of Ferguson. Brown's death sparked weeks of protests, as well as an investigation from the Justice Department.
A report from the federal government found a pattern of unconstitutional behavior, noting that African Americans in St. Louis were subject to 90 percent of the traffic stops and arrests in the city, despite only making up 67 percent of its population. The Justice Department also found that officers routinely used excessive force.
The city recently agreed to a settlement with the government, which mandates a police monitor, diversity training, and more resources to analyze information on police behavior.