FBI: Number of cops killed on duty last year fell by 20 percent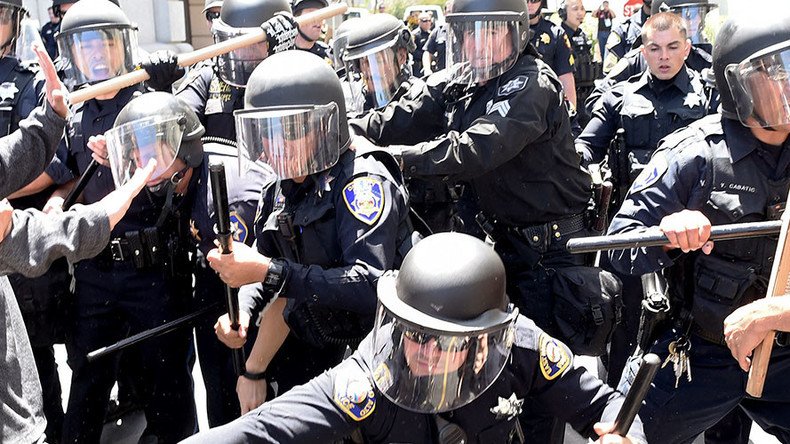 The number of US cops "feloniously" killed in the line of duty last year dropped significantly, according to preliminary statistics released by the FBI.
The figures show 41 officer killings last year, almost 20 percent less than in 2014, when 51 law enforcement officers died in action.
The figure is the lowest recorded since 2013, when 27 officers were killed, according to the FBI.
This drop comes despite claims, as reported by Fox News, that a "war on cops" linked to the Black Lives Matter movement was developing in 2015.

READ MORE: Arrests, violence at Ferguson town hall as protesters confront mayor, clash with police
According to the FBI, the majority of the officers were killed in America's South – a total of 19.
In addition, nine officers were killed in the West, five in the Midwest, four in the Northeast, and four in Puerto Rico.
Offenders used firearms in 38 of the 41 cop killings, with handguns used in 29 incidents, rifles in seven, and a shotgun in one. The type of firearm used for one of the killings was not reported.
In the three other cases, the officers were killed by vehicles.
Six of the officers fired their own weapons, and six others attempted to fire, while three of the victims were killed with their own weapons.
Eight officers were killed while investigating suspicious persons and seven while in tactical situations. Six more cops were engaged in traffic pursuits or stops when killed, and four were targeted in ambushes.
The FBI statistics show that 30 of the slain officers were wearing body armor when slain.
Another 45 officers were killed in line-of-duty accidents, including officers whose deaths were determined to have been unintentional.
The FBI will publish its final statistics in the Law Enforcement Officers Killed and Assaulted, 2015 publication this autumn.
The Officer Down Memorial page, which also tracks the deaths of police officers, registered a total of 128 officer deaths in 2015. Their figures also include deaths relating to natural causes, including six deaths due to 9/11 related illnesses and 17 from heart attacks.
There have been 35 line-of-duty deaths so far this year, 17 of which resulted from intentional gunfire, according to ODMP.
You can share this story on social media: