Al-Qaeda eyes relocation to Syria, set to compete with ISIS for emirate – NYT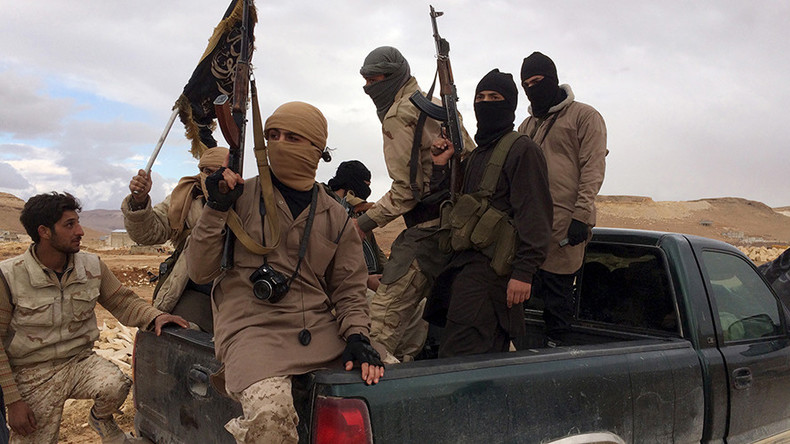 A number of Al-Qaeda veterans have secretly been sent to Syria, where their goal is to do the groundwork for the establishment of an emirate, US and European intelligence officials have told the New York Times. Such a mission would imply competing with Islamic State.
Al-Qaeda is reportedly planning to set up an alternate headquarters in Syria, using its local affiliate, Al-Nusra Front.
The step could mean that Syria gains increasing importance for Al-Qaeda, as well as the potential for violent escalation between the two terrorist groups, officials told NYT.
Another, possibly even more alarming, consequence could be Al-Qaeda's establishment of an emirate in Syria. Earlier this month, the group's leader in Pakistan, Ayman al-Zawahiri, released his first audio statement in months, which could be taken to mean his blessing to set up the emirate, Western officials say.
This new entity may pose an elevated terror threat to the world as the terror group will gain immediate access to fighters from Iraq, Turkey, Jordan and Lebanon.
"The combination of an Al-Qaeda emirate and a revitalized Al-Qaeda central leadership in northern Syria would represent a confidence boost for the jihadi organization's global brand," Charles Lister, a senior fellow at the Middle East Institute, also wrote in Foreign Policy magazine earlier this month.
The organization may seem to relate more to ordinary Muslims than Islamic State (IS, formerly ISIS/ISIL), too.
"Al-Qaeda would present itself as the smart, methodical and persistent jihadi movement that, in contrast to the Islamic State, had adopted a strategy more aligned with everyday Sunni Muslims," Lister added.
US officials seem to be concerned about this prospect as well.
"We have destroyed a large part of Al-Qaeda. It is not completely eliminated, so we have to stay focused on what it can do," CIA director John O. Brennan told NBC earlier in May.
Some Al-Qaeda leaders allegedly oppose the creation of an emirate now, believing the timing isn't right for such a step, NYT reported Sunday. There are between 5,000 and 10,000 fighters in Al-Qaeda's affiliate in Syria, Al-Nusra Front, while IS has up to 25,000, most of them in Iraq and Syria.
The majority of the rebel groups waging war against the Syrian government reportedly reject the idea of creating an emirate due to concerns that it would further divide the opposition forces.
Al-Nusra is currently in control of parts of Syria's Aleppo and Idlib provinces, along with other opposition groups.
The US advised the Syrian opposition to clearly separate itself from Al-Nusra Front earlier in May.
"In Aleppo, there are areas controlled by the opposition, and there are areas held by Al-Nusra," US Department of State spokesperson Mark Toner said, adding "And that's our challenge, in part to make sure those lines are more clearly delineated, and we have conveyed that to the opposition."
Al-Nusra is not part of the current ceasefire deal.
A recent report also indicated that some Al-Nusra camps could be being funded and supported by Turkey. An RT crew filmed a number of what appear to be Turkish military vehicles coming through the Bab al-Salam crossing on the Turkish-Syrian border near the outskirts of the northern Syrian town of Azaz, which is partially controlled by Al-Nusra.
You can share this story on social media: