Stunt pilot killed in fiery plane crash at US family airshow (VIDEO)
Published time: 15 May, 2016 18:41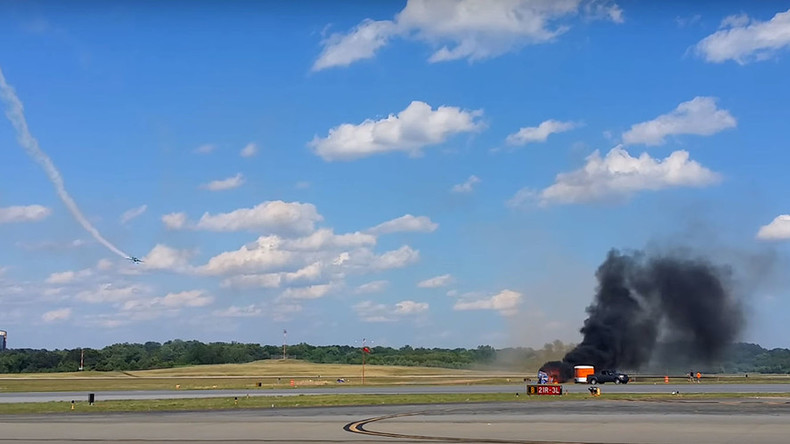 A stunt pilot has died after his biplane plummeted onto an airfield runway and exploded in front of a crowd in Atlanta, Georgia.
Greg Connell was killed while performing high flying tricks during the Good Neighbor Day Air Show on Saturday.
The South Carolina native was at the controls of the custom-built stunt plane when the aircraft suddenly fell from the sky and caught fire at DeKalb Peachtree Airport, report WSB-TV Atlanta 2.
Owner of Greg Connell Airshows, the veteran pilot had more than 20 years experience after first climbing into the cockpit back in 1989.
On his official website, Connell's blue 'Wolfpitts' plane is described as "incredibly agile" and the "most acrobatically capable biplane in the world".
Footage of the incident shows families enjoying the sight of planes crisscrossing a clear blue sky before the scene turned to tragedy.
Connell's shark-toothed biplane appears to fall into an unexpected dive during a looping manoeuvre and crash lands just shy of the airfield runway. The plane skids onto the tarmac before erupting into flames in front of horrified onlookers.
A shocked airshow announcer can then be heard asking parents to "turn your children away from the field" while emergency personnel rush to the site.
The National Transportation Safety Board and the Federal Aviation Administration are now investigating what caused the crash, which occurred during near perfect conditions. It is understood that there were no mayday calls made by the pilot prior to the accident.
Tributes have been pouring in for Connell, with fellow fliers drawing a love heart in the sky for their fallen colleague.