Martin Shkreli wants Zimmerman's gun that killed Trayvon Martin now up for auction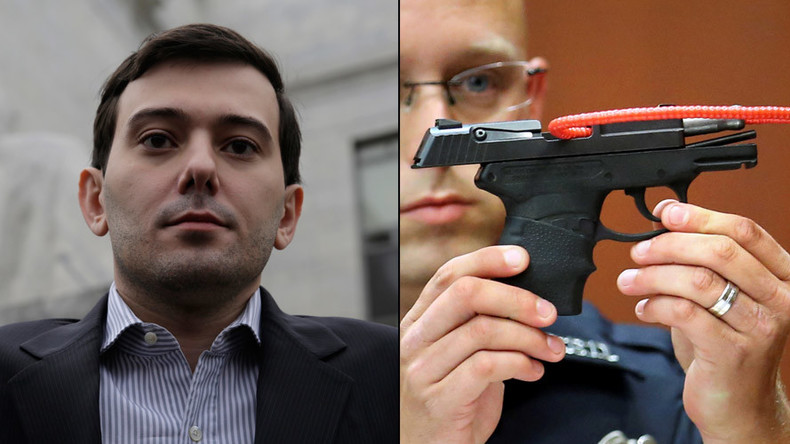 Two of America's most hated men, "pharma bro" Martin Shkreli and ground-stander George Zimmerman, came to symbolic blows over the gun that killed unarmed black teenager Trayvon Martin this week.
The man known for jacking up the price on critical prescription drugs, and risking the lives of thousands of people who couldn't afford it, said he may buy the deadly weapon Zimmerman put up for auction.
"The only reason I would bid on the Zimmerman gun would be to destroy it or put it in a museum as a disgusting reminder of racism in the US," Shkreli tweeted on Thursday.
Zimmerman announced on Wednesday that he was putting the Kel-Tec PF-9 9mm handgun up for auction, describing it as a "Firearm Icon" and "piece of American History."
The Florida native previously sold a number of his Confederate Flag paintings to pay for his legal fees, but on this occasion he says he's selling the gun to "fight BLM violence against Law Enforcement officers" as well as "Hillary Clinton's anti-firearm rhetoric."
The current highest bid stands at $66 million, although it's almost certainly a prank bid.
The most "legitimate" one is reportedly $415,000, according to TMZ.
Shkreli didn't indicate how much he would offer, but his comments started a flame war with Zimmerman defenders on social media.
Some suggested that a man with a gun and violent history was less of a threat than an unarmed boy.
Shkreli was apparently swayed by the onslaught of tweets by replying to one user that he was "reviewing the case."
The former Turing Pharmaceuticals CEO added that he "may be right" to suggest that Zimmerman had just been defending himself, before teasing that he didn't want the gun at all.